It came as a rude shock to many followers of Jude Okoye, music video director and senior brother to music superstar, P-Square, when he posted his picture with three pistols and some bullets on the internet last night Monday, 6 January.
Jude, also known as Engees, seemingly trying to act like a gangster, unabashedly posted the offensive picture with a message on the microblogging site with a handle @judeengees:  "F..k with me cos u know I got 'em."
The post which has attracted over 230 likes by this morning, also has many commentators chiding Jude, who ought to be a role model rather engaging in brazen display of such shameful act.
And P.M.NEWS observed that hours after many pleaded with him to take down the offensive post, Jude remained adamant as he left the picture that keeps attracting comments both negative and otherwise.
"I suggest you take down this photo. You're not sending the right message to youths out there. With you being a celeb. Real shame!" wrote one follower with handle @Kveeeeeee.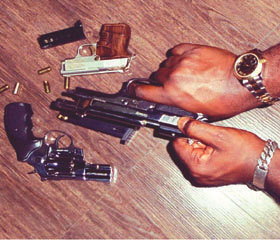 Another follower @alextobechi who in agreement with @Kveeeeeeee simply said: "I'm disappointed in you Jude."
To @Sugarcherry2, the music stars' brother is stealthily promoting gangsterism: "Hehehehe Tupac and Biggie…Pls Jude don't start a war biko."
A follower by name Mor Sene with handle @yuseemi was more worried and told the award-winning director: "Don't start this s**t in Nigeria you F***tard…You might have it but don't show it…Lord knows when pics like this would start becoming a trend in Nigeria…"
He continued: "That's exactly where I guess the bad influence will start spreading to the masses to make this 'bad influential pic like' this in Nigeria trend."
@Havenlyhot wrote: "A real man fights without a weapon and wins his battle like a warrior."
And @Alashock was a bit acerbic: "Height of shamelessness if you think this is a show off…Stupid American wannabe…Even when the supposed advanced country (America) is currently campaigning for gun control. Insecurity of the highest order from Judeengees."
For a follower, Nelson Ebuka with handle @boinero, he believes Jude's access to excessive cash could be responsible to this misdemeanour: "Too much money dey disturb you…U need a cognitive therapy….Remember God fit take d fame and money in minute. Even American artists never try dis one," he stated.
Temitayo Ogunseye described Jude's action as "sheer stupidity at its peak".
There are others who are calling for investigation into this act by Jude whether he has right to threaten anyone with guns on the social media whether he is legally or illegally in possession of the firearm.
Jude is gradually gaining not too good reputation with some of his posts on the social media. Recently, he alongside his twin brothers flaunted wads of foreign cash while aboard a private jet.
—Funsho Arogundade