Okafor Ofiebor/Port Harcourt
The Nigerian Police Command in Rivers State has released the Leader of the House of Assembly, Chidi Lloyd after spending six days in detention over a fatal traffic accident that led to the death of Police Sergeant Urang Obediah and Kingsley Ejeuo on Emehuo axis of the East-West road.
One of Chidi Lloyd's lawyers, Emenike Ebete confirmed the lawmaker's release. He said Lloyd was granted an administrative bail with the condition that he must deposit his international Passport.
He also said the Lloyd was required by the Police to provide two sureties, one of whom must deposit a Certificate of Occupancy of a landed property in Port Harcourt.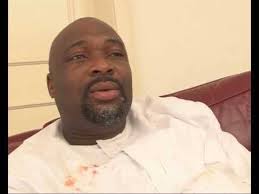 The Rivers Police Commissioner Mbu Joseph Mbu had accused the lawmaker of murder and even accused Governor Chibuike Amaechi of planning to smuggle him out of the state.
According to the Police spokesman,Muhammad Ahmad, "attempts by some persons to smuggle the lawmaker through the back door of Kesley Harrison Hospital was reportedly aborted by security operatives, a situation he said, allegedly made Governor Rotimi Amaechi to rain abuses at the state Police Commissioner, Mr Joseph Mbu.
"It was not surprising then that the attempt to smuggle Chidi Lloyd out of the state, as a first step to jetting him out of the country, which was thwarted by the Police, did not only take the governor by surprise, but infuriated him.
This claim was denied by, David Iyofor, the Chief Press Secretary, CPS, to Governor Amaechi describing it as preposterous and a distortion of facts as the Governor only learnt of Lloyd's arrest in his house in the presence of his lawyer and family when the Governor arrived Abuja.
Lloyd's lawyer said that after the accident, the driver of his client's car surrendered himself to the Police.
Yet the police detained the lawmaker accusing him of double murder.

Load more