Nigeria's Independent National Electoral Commission on Wednesday (INEC) said the hitches that marred the November 2013 Anambra State gubernatorial election will not be allowed to re-occur in the gvernorship elections in Osun and Ekiti states scheduled for later this year.
Professor Attahiru Jega, Chairman, INEC Chairman who said this when he hosted John C.M Groffen, the Netherlands Ambassador to Nigeria, in his office assured that the Commission is doing everything possible to improve on its management of elections.
While acknowledging apprehensions over the impending 2015 general elections, Jega said he has learnt lessons from previous elections and is determined not to repeat it past mistakes.
He added that the Commission learnt additional lessons in the Anambra elections which will further help its preparation for the 2015 elections.
"What happened in Anambra was unfortunate and it will not in any way represent what will happen in 2015. We will have two governorship elections this year and we are doing all possible to ensure they are conducted smoothly, freely and fairly. We have mapped out detailed plans from previous elections," said Jega.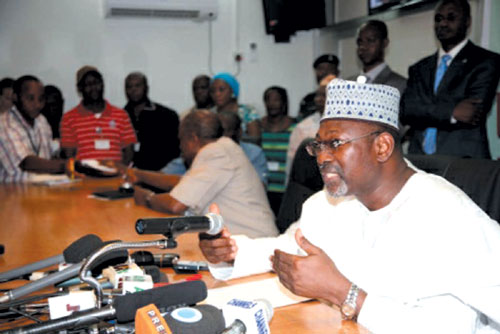 The INEC Chairman who also assured that the 2015 elections will be much better than the one conducted in 2011 noted the size and complexity of the country are the main challenges making the conduct of polls difficult.
But he was quick to note that the challenges are not insurmountable. "We have also learnt the hard way that sometimes in spite of our best efforts things happen which raise questions about our preparations," said Jega.
"We are aware that stable nation, will lead to improved economic growth. Our job is to use electoral process to ensure that elections are conducted with credibility and add to political and economic stability of the country. I am pleased to inform you that prospects of the coming year are good because we have done extensive research and preparations since 2011. And we have made remarkable improvements into the process," he added.
In his response, the Ambassador said Nigeria should do everything possible to avoid political instability in the country ahead of 2015 elections.
Meanwhile, the Osun State chapter of Peoples Democratic Party said on Wednesday said three persons have indicated their interests to contest of the platform of the party in the forthcoming gubernatorial election in the state.
The PDP Chairman in the state, Alhaji Gani OlaOluwa, disclosed this in a statement on Wednesday in Osogbo said the three members who picked the expression of interest form after payments of N5 million before the December 31, 2013 deadline are: Hon. Oluwole Oke who hails from Obokun Local Government Area, Senator Olasunkanmi Akinlabi from Ayedaade Local Government Area and Senator Iyiola Omisore from Ife East Local Government Area.