Nigeria's popular comedienne, Oluwadamilola Adekoya, better known as Princess, has been opening up gradually on the reasons behind the collapse of her seven month marriage to Jeremiah Adeshola, a Yoruba movie actor/producer.
Princess had explained that the marriage crashed due to irreconciliable differences which they could not work out.
"Yes, my marriage has ended due to irreconcilable differences. We have been having issues since the wedding but we still remained together hoping that we would be able to work it out. But apparently, we couldn't work it out, hence the reason for our separation. We actually ended it several months ago but we didn't want to make it public. I am sure God knows best," Princess was quoted to have told the audience at the recently held "Stand-Up Nigeria", a monthly comedy show at the MUSON Centre, Onikan, Lagos.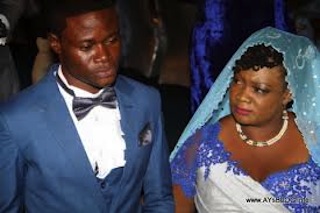 Some days later when the news of the crashed marriage hit the street, (on 30 December to be price) Princess also went on to the internet via her Twitterhandle @PrincessCOMEDY to shed more light on the issue surrounding the collapse of her very short union with Adeshola. "God says Luv odas & 4give. He didn't say 'Take leave of ur brain & let dem destroy u' or 'Change them'. Deal wit ur issues, Dey are plenty enuf!" she tweeted.
While the comic star has not been able to explain further what went wrong in her marriage, some close sources of hers  have shed more light on what will unarguably remain the shortest celebrity marriage in Nigeria.
A source told P.M.NEWS that Princess confided in a close friend that it was the very week that they got married that she got to know the guy's intention fully.
According to the source, two weeks into their union, they started having problem. Rather than having the crack patched, the trouble festered until both decided to give each other a breather after two months of tolerating each other.
"Princess felt she could change some of those findings but her effort proved abortive until she decided to quit the marriage," the source said.
Another source blamed the collapse on Princess who was said to have rushed into the marriage, without bothering to understudy Adeshola, all because she felt age was no longer on her side.
"Her desperation to be married was her greatest mistake which makes her fall into the hands of an opportunist who disguise as a lover," another source told P.M.NEWS.
He explained that Adeshola, as a struggling movie producer, had allegedly married Princess with intention that she could help lift his status in the entertainment industry.
Others have also laid the blame on the part of Princess whose celebrity status dwarfed that of her husband, and she didn't pay attention to that attitude problem of her man.
A source who claimed to have run into the couple in one of the highbrow restaurants while still together narrated how the husband seemed so uncomfortable as Princess did the ordering of their meals and publicly brought out her bank debit cards (ATM cards) and instructed the husband on which of the cards to be used to pay for the service.
"That guy looked deflated as many eyes caught what's going on between the Princess as a celebrity and her husband at that restaurant," the source revealed.
It was gathered that Adeshola attempted to curtail his wife's high profile and celebrity lifestyle but he could not and when he got tired, he decided to take a walk.
After a quiet registry ceremony at Federal Marriage Registry in Ikoyi, Lagos, Princess and Adeshola got married on 8 May 2013 at a lavish ceremony held at Balmoral Events Centre, Oregun, Lagos.
The marriage was solemnised by the top echelon of C&S Movement Church Ayo Ni O led by popular Prophet Gabriel O. Fakeye and eight other clergymen.
At the wedding were Mrs Abimbola Fashola and Erelu Bisi Fayemi, wives of Lagos and Ekiti States Governors respectively, among other creme de la creme of the society.
Though it is not clear yet if Princess will be filing for divorce, but the comedienne has moved on with her life while the husband has remained evasive since the news broke.
—Funsho Arogundade