The former Central African Republic president Michel Djotodia on Saturday arrived in Benin, after resigning under pressure for his failure to tackle bloody religious violence in his homeland.
An AFP reporter at Cotonou's airport said the former rebel leader stepped off an official Chadian jet at 5:05pm local time (1605 GMT) after a flight from N'Djamena.
He was met off the plane by Benin's Foreign Minister, Nassirou Bako Arifari, who earlier confirmed that Djotodia was heading to the tiny west African republic at the request of central African states.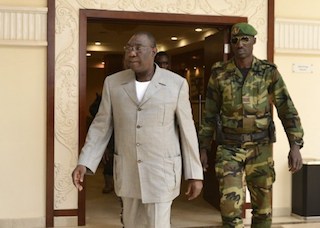 Djotodia and Arifari shook hands but the former head of state, in casual clothes and looking relaxed, made no comment to waiting journalists, the reporter said.
There was no immediate word from Arifari's department about Djotodia's movements.
Airport sources in Chad said earlier that Djotodia left N'Djamena at around midday bound for Benin.
Djotodia's family is already in the country and he visits regularly, sources in the Central African Republic added.
The ex-leader also has a number of links to the country, where he was exiled and imprisoned at the request of the man he deposed in March last year, Francois Bozize.
Djotodia and his prime minister Nicolas Tiangaye resigned on Friday at an extraordinary meeting of central African countries in N'Djamena.
Arifari said Benin's government had accepted a request from member states of the Economic Community of Central African States (ECCAS) for Djotodia to fly to Benin.
He called Benin's acceptance "our contribution to the search for peace in central Africa".