Abiodun Onafuye/Abeokuta
Governor Ibikunle Amosun of the western Nigeria state of Ogun has debunked widespread rumour that he has concluded plans to defect to the Accord Party,AP,if the All Progressives Congress,APC denied him its ticket to seek re-election in 2015.
Amosun denied holding a secret meeting in Ibadan with former Oyo State Governor, Senator Rashidi Ladoja, in a bid to secure the AP platform to contest and realise his second term in office.
He spoke during an interactive session with journalists (NUJ) at the Government House, Oke-Igbein, Abeokuta on Friday night.
The governor said he was surprised to read some media reports recently that he planned to defect to Accord Party if the alleged rift between him and former governor Olusegun Osoba cost him a second term ticket in APC.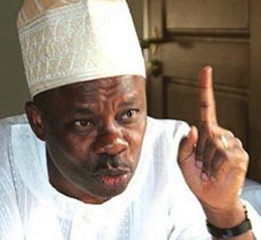 He wondered where the news emanated from, stressing that the purported meeting with Ladoja only occurred in the realm of speculation and conjecture.
Amosun said, "They said I was in Ibadan to see Ladoja on how I'm going to move to Accord Party because they (APC) are not going to give me ticket and I begin to wonder.
"In fact, I think the last time I met Ladoja was when (Governor Abiola) Ajimobi was burying his mother. He (Ladoja) came to greet me. If you are here, is it me that will go to another party? So, when they begin to say that, I just think it is just one politician that is using them."
The governor vowed not to decamp into another political party despite the reported face-off between him and Osoba as well as the National Assembly members from the state over control of APC structures.
He urged media professionals to always cross-check their facts before publishing or broadcasting to the public.
Amosun reiterated his commitment towards rebuilding the state and ensuring judicious use of its resources to emerge the investment destination of choice in Nigeria.