Japan's Kei Nishikori emulated the feat of coach Michael Chang as he defeated Tomas Berdych 6-4, 7-5 on Saturday to win the Kooyong Classic.
Chang, newly-appointed coach of the Japanese number one, was in the stands for his protege's success. He won the pre-Australian Open trophy himself three times in the late 1990s.
Other past winners of the tournament considered a prime tune-up for the first Grand Slam of the year have included Roger Federer, Lleyton Hewitt, Pete Sampras and Andre Agassi.
Nishikori, ranked 17th, needed all of his resources to stage his giant-killing act over the world number seven from the Czech Republic.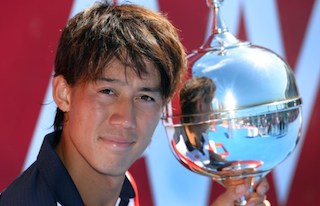 "I really enjoyed this week, I'm very happy to put my name on this trophy along with Michael," said the winner, who plays Australian Marinko Matosevic in the opening round of the Australian Open.
"It was a good match against Tomas — even if I lost to him a couple of days ago. Hopefully we will both have a good start at the Australian Open."
Berdych came to the final of the eight-man event with an undefeated record after actually beating Nishikori in a group match 48 hours earlier.
But due to the late withdrawal of France's Richard Gasquet from the final due to fatigue, Nishikori was re-inserted into the field, getting the chance to vie for the title as the start of the Australian Open looms on Monday.
Berdych accepted defeat with good grace, glad to get in a final match before his Grand Slam start.
"I was third in 2013 and second this year, I hope to return and make it number one. I like this event, played at this historical club (former home of the Australian Open). This is the best kind of start for next week," he said.
Berdych got off to a slow start as he lost his opening service on a backhand a few minutes into the match.
Nishikori took advantage for a 4-1 lead, with Berdych pulling to 3-5 with an ace. The Czech broke back in the ninth game for 4-5, but dropped serve again a game later as Nishikori lifted the opener after 32 minutes.
Berdych pushed hard in the second set but was never able to get into a lead. He levelled at 5-5 with his sixth ace, but let his Japanese opponent again get his nose ahead for 6-5.
Nishikori finished off the victory as he passed Berdych on a match point a game later.