Kazeem Ugbodaga
No fewer than five persons have drowned at the Lagos Bar Beach, Lagos, Western Nigeria, in the last 12 days, says the National Emergency Management Agency, NEMA.
One of them was an adult, who was reportedly washed away from the ocean Saturday evening, while in company of his friend, NEMA spokesman, Ibrahim Farinloye told P.M.NEWS.
Four picnickers were also washed away by the ocean on New Year's day.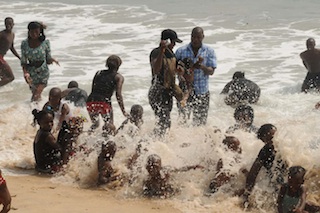 The identity of the man who drowned yesterday could not be ascertained, but Farinloye said the man was in company of other members of the Salallahu Ala Monla Nabiya group, a Muslim group that could have come on spiritual cleansing at the beach. The incident occurred around 4:45pm.
According to him, "an adult man in company of friends this evening (Sunday) was washed away in the sea by the Bar Beach. The man and his friends stayed far from the usual area where fun-seekers converged until one of them raised the alarm of the drowning of the man."
Efforts to save the drowning man was said to have proved abortive as he was swept away by the raging ocean surge.
"Immediately, the beach rescuers made frantic efforts at saving the man but they could not rescue him. This incident has brought the number of those drowned at the Bar Beach to five in 12 days. Four people were drowned on the first of January and efforts to rescue them proved abortive till two days later when their remains were recovered," Farinloye lamented.
The NEMA spokesman said it had become pertinent for the Lagos State Government to advise people along the coastlines that the effects of climate change are fully here, hence, the need to be safety conscious as people embarked on their various activities in the area.
According to the South West Zonal Command, NEMA, Alhaji Iyiola Akambe, there is need for safety consciousness as ocean tide is currently being experienced, the effect of which the Bar Beach is facing.
"When ice formations in the Polar regions of Canada, the USA and Europe melt and flow into the Atlantic Ocean, the effect is increase in the volume of water which leads to extensive ocean tide beyond the limit of the sea shore, thereby increasing the Continental shelf These are part of the cumulative effects of global warming," he explained.

Load more