Pastor Sign Fireman, who was arrested recently in Lagos by the police in connection with the death of a 12-year old girl and later granted bail, is in the news again.
According to a worshipper at his church, Perfect Christian Mission Church in Surulere, Lagos, southwest Nigeria, worshippers on Sunday, 12 January, 2014 gave special offering to thank God for releasing him from police custody.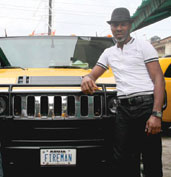 P.M.NEWS gathered that during the Sunday service, Fireman, whose real name is Ofuche Ukoha, was showered with naira notes which were tossed at the altar. The excited worshippers said they believed Pastor Fireman's alleged ritual offence was God's way of advertising the church to attract more worshippers.
Said one of the worshippers: "Each member's testimony was then turned into an avenue to collect offering. After one particular testimony, the pastor who anchored the testimony segment said: 'God will use your shame to announce you. If you want that to be your portion, come forward now with your special seed.'
"The excited followers of Pastor Sign Fireman shoved their way to the altar, tossing naira notes at the feet of the altar. Towards the end of the session, the Apostle spoke of how he became the pillar of finance in his own family, after he only sowed seed of N150,000 in another church. He touched three  pillars in the church and called out to the congregation to pay the sums of N100,000; N30,000 and N10,000 to touch the respective pillars with him so that they could become pillars of finance in their own families as well."
Fireman ran into trouble last week when the police arrested him after an 18-year old boy who allegedly murdered a 12-year old virgin in Lagos, implicated the pastor in the murder.
The teenager alleged that he was sent by Fireman to obtain faeces of a virgin girl for a reward of N100,000.
The teen, who attends Fireman's church in Aguda, Surulere, allegedly strangled the girl to obtain her faeces for ritual purposes, he admitted while being paraded by the police.
He was reported as saying that he had wanted to become rich and had approached the pastor personally after years in the church without a financial breakthrough.
He alleged that Fireman told him the way to get his financial breakthrough was to get the faeces of a virgin girl and bring it to him.
The suspect alleged that Fireman promised him a reward of N100,000 for the assignment.
He narrated how he sought and killed the 12-year-old girl simply known as Bose.
—Simon Ateba