The second youngest player in the women's Australian Open draw Monday knocked out the oldest, but there was little between the two despite a whopping 27-year age difference.
Exciting Swiss qualifier Belinda Bencic is just 16 and came up against veteran Japanese Kimiko Date-Krumm, who at 43 is older than her opponent's mother.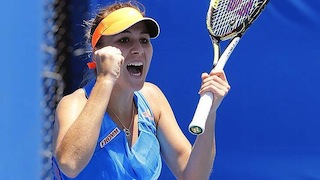 Yet despite sweltering conditions and Bencic's clear youthful advantage, the wily Japanese held her own, taking the second set before succumbing 6-4, 4-6, 6-3.
"I was not thinking about it (Date-Krumm's age), but I had real trouble to play her because she plays a very different game and very flat ball. I could do nothing with it," said Bencic.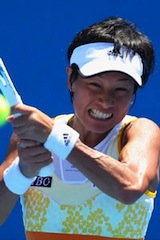 "So I had a little bit of trouble, but then I managed to go though it."
Bencic won the French Open and Wimbledon junior titles last year and is an exciting new prospect, so much so that she has been dubbed the new Martina Hingis.
The former great and fellow Swiss has taken Bencic under her wing, watching from the stands on Monday. Bencic is also sometimes coached by Hingis's mother, Melanie Monitor.
"She gave me some advice, and I tried to do it," said the teenager of Hingis, whom she grew up idolising.
"She said a lot of things. She knows better than me. It was tactics and mental."
Bencic's win earned her a crack at world number four Li Na in the second round.