Abiodun Onafuye/ Abeokuta
Senator Olabiyo Durojaiye has urged members of the All Progressives Congress in Ogun state to tread softly, so as not to exacerbate the divisions in the party by endorsing the candidature of Governor Ibikunle Amosun for the second term, without following the due process.
He gave the warning today in Abeokuta during a meeting of all the members of the party held at
the June 12 Cultural Centre, Kuto, Abeokuta. The meeting which was tagged, Consultative meeting on Politics and Governance was chaired by the governor.
It was attended mostly by loyalists of the governor.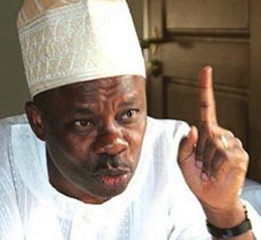 Conspicuously absent were members of the party at the National Assembly, believed to be loyal to the former governor of the State, Akinrogun Olusegun Osoba.
The obvious division in the party must have prompted Durojaiye to sound a note of caution as the meeting turned into a coronation for Governor Amosun.
"I want us to look at this issue very carefully. We supported his candidature, but I don't know if what we are saying here is constitutional. I am not certain in my mind that we've gone to the stage of adopting any
candidature. The Congress and all of that are still there, the registration is almost very close, that is what we should be planning for by now, not what we are doing here. We are still going to get to
that stage; people should not be in a hurry.
"I am not sure this body is constitutionally backed to endorse a candidate. I as an elderly person and a former lawmaker and a Lawyer should be able to correct you people where you are erred. Similar thing was done yesterday in Ijebu Igbo and those that were there could attest to that. The method we applied is political and people could remember that it was I and Chief Olu Adebanjo that move and seconded
the adoption of the governor for the second term. In parliamentary procedure, a motion can be stood down; that doesn't mean such motion is thrown away", Durojaiye advised.
Governor Amosun thanked all the members for their love and support since he assumed office, which he described as the tonic that has been keeping the government going, adding that, what was going on today was not yet ripe.
"It is the dropping of the ball, I couldn't speak when Lawyer Taiwo was moving a motion, I appreciate all your effort, love and commitment, that is what is keeping us going. My second term should not be the main issue of this meeting, without the kind of love; all of this good works we are doing wouldn't have been done. The way you've reacted has been keeping me moving like a tonic. It is not because of my second term that we are here. All we are doing here is a show of love, we are all tested politicians and we know what to do and ultimately, it is goodwill of the people that will decide.
"Why we are here is to reassure our people that we are one and we are one. When they insinuate that there is crisis, I ask who is masterminding the crisis?, please, don't join issue with anybody, you don't hit someone that is down. I will be the last person that will want us to have disunity and disharmony. I don't know who is not with SIA, everybody is SIA. It is not my party or someone's party, it is our party.
"We should not allow them to say we are fighting. The party is our baby and we should do everything humanly possible to keep the baby. Rather than say we want to fight, we should embrace them, anybody can
abuse me, that is why I am the Governor and it is a sign of strength and not weakness", Amosun posited.
Commenting on the leadership crisis in the party, the governor maintained that, the
former governor, Chief Olusegun Osoba remains his leader.
"when people said I am the leader of the party, I accept, but within me, I know that someone is another leader of the party. I am not like that, Governors go and Governors come, but I will be happy if people can tell me my fault rather than fighting over what is not or be telling me that some people are abusing me..
"If you said I am the leader, I accept, I am the leader, but I know Osoba is my leader, that means, Osoba is everybody's leader. Which point are we proving again? We don't need to fight anybody, if they
abuse me, allow them to abuse me but if it continues, we know what we can do", he declared.
Amosun emphasized that politics is a game of number and the majority will always have their way.
"When it gets to the time of deciding, everybody will have their say and majority will have their
way. We should be prepared for registration and Congresses now, politics is a game of number. I want to appeal to party members to cooperate with delegates from Abuja for the registration and all their
laid down rules must be followed strictly. We should go back to our various wards now and ensure that we encourage our people to come out en masse for the registration during the registration exercise."
Several Speakers at the meeting were of the opinion for the unity and oneness to reign in the party, the incumbent governor should be the only candidate for the 2015 gubernatorial elections in
the State.
Among those at the meeting were all the State Commissioners, aides, all the 20 local government Chairmen in the State, all the Councilors from all the 236 wards in the State, elders and leaders of the party and various groups , believed to be loyalists to the governor.

Load more