Arsene Wenger is sweating on the fitness of two of his Arsenal stars after his side climbed back to the top of the Premier League with a 2-1 win at Aston Villa.
Goals from Jack Wilshere and Olivier Giroud within the space of 60 seconds in the first half at Villa Park on Monday gave the Gunners a fourth successive league win and lifted them one point clear of second placed Manchester City, but the success came at a cost.
Czech midfielder Tomas Rosicky suffered a suspected broken nose following a clash with Gabriel Agbonlahor while Spanish left-back Nacho Monreal will go for a scan on an injured foot.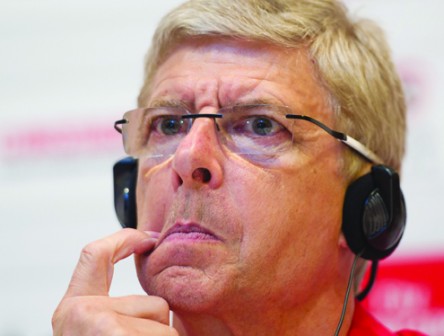 "Rosicky has a bad nose, I don't know if it was broken," Wenger said.
"I don't know if it was an elbow or not, I did not see. Maybe it was an accident but Monreal needs a check on his metatarsal."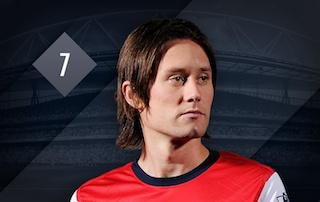 While the injuries took a little of the gloss off Arsenal's return to the top, Wenger was still pleased with his team's performance and particularly happy with England midfielder Wilshere, who made the second for Giroud after scoring the first.
"Jack has found a change of pace, these games are about that and penetration," he said.
"He's not just a passer but someone who is incisive with the ball. For that you need to be at the top of his game physically.
"It was a big win. It was two different halves. We showed our passing in the first half and second we showed our defensive qualities in the second.
"Villa had two different styles and were very direct in the second half.
"Maybe we were a bit cautious at 2-0 but our defenders kept us in the game.
"I don't know if they were too confident or cautious. We lost a bit of incisiveness and the ability to score more.
"We had to give a strong response tonight because everyone looks at you. You are a bit more under pressure when you play last in the weekend so you cannot drop points.
"I like the fact we are mentally ready for a fight."
No fewer than five Arsenal players are coping with one injury or the other,the latest being Theo Walcott, the winger who has been ruled out for the rest of the season. He sustained a ruptured anterior cruciate ligament of his left knee against Tottenham Hotspur on January 4 and will be out for at least six months.
Aaron Ramsey is also recuperating from thigh injury. Wenger hopes he will be available soon.
Forward, Nicklas Bendtner limped out of Arsenal match against Cardiff at the Emirates on 1 January. He may not be fit until towards the end of January.
Yaya Sanogo, another forward has also been nursing a back injury. According to a posting on Arsenal.com website, he too is expected to be back this month, since August last year. He was injured in Arsenal-Fenerbache match at the Emirates.
Abou Diaby, a gifted midfielder is still two months away from recovery. He is nursing a knee injury.

Load more