A total of 19 people were killed in a car bomb attack on a busy market blamed on Boko Haram militants, police in Maiduguri, northeast Nigeria, said on Wednesday.
"From the latest tally at our disposal, the death toll stands at 19," Lawan Tanko, the police commissioner of Borno state, of which Maiduguri is the capital, told AFP.
The military said that Tuesday's blast, on a public holiday when people in the mainly Muslim city were celebrating the birth of the Prophet Mohammed, was the work of the banned Islamist group.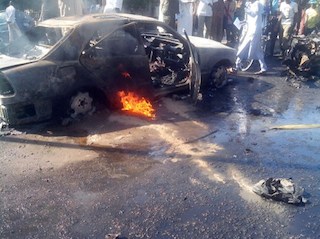 Some reports suggested that up to 30 people were killed in the explosion but Tanko dismissed the claims.
He added that there was no precise figure on the number of injured, as many people had been taken to different hospitals and private clinics.
Tuesday's attack came after suspected Boko Haram gunmen killed five at a village market some 22 kilometres (13 miles) from Maiduguri on Sunday, burning cars, shops and tents storing grain.
There was no immediate claim of responsibility for the latest strike but the group previously said it was behind a daring attack on military targets in Maiduguri in December last year.
Maiduguri is considered the spiritual home of Boko Haram, which wants to create an Islamic state in northern Nigeria and is deemed an international terrorist organisation by the United States.