Spanish soccer champion Barcelona said it paid 40 million euros ($55 million) to a company owned by Brazilian playmaker Neymar's parents as it comes under pressure to give more details about one of last year's biggest soccer trades.
The team paid the money to N&N Consultoria Esportiva e Empresarial Ltd. as part of a 57.1 million-euro outlay on Neymar, according to a Barcelona statement. Sao Paulo-based N&N is owned by the 21-year-old's parents, a company filing shows. Last June, Barcelona said the financial details of the trade were protected by a confidentiality clause.
The case is an indication of how soccer's top players channel earnings through a "labyrinth" of companies, according to Jose Maria Gay, a Barcelona University professor who writes an annual report about Spanish soccer finance.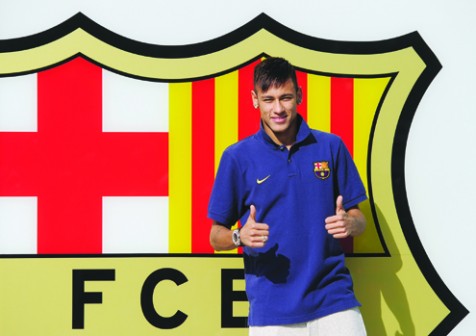 "They have become a type of financial instrument," Gay said by telephone. "You invest in them like you invest in the oil industry."
Neymar's parents couldn't immediately be reached for comment. No phone number was listed for N&N in the company filing and their son's agent Wagner Ribeiro didn't immediately return a phone call to his office in Sao Paulo.
Helena Passarelli, a spokeswoman for Neymar's marketing company NR Sports, declined to comment, saying the family doesn't speak about financial agreements.
Investment Fund
Spanish prosecutors are asking a judge in Madrid to investigate Neymar's transfer, El Pais newspaper reported Jan. 10. Calls to the prosecutors' office went unanswered today. Jordi Cases, a Barcelona club member, filed an initial complaint about the trade last month.
Barcelona said it asked the judge to drop the case because there was no illegality involved.
DIS Esporte, a player investment fund that acquired a 40 percent stake in Neymar's transfer rights when he was at previous club Santos, is also taking legal action to obtain documents about the trade from Barcelona, DIS executive director Roberto Moreno said by phone.
The Sao Paulo-based fund wants to know if it is owed more than the 6.8 million euros — 40 percent of Santos's transfer fee — it received, Moreno said.
Messi Case
Lionel Messi, Barcelona's four-time world player of the year, and his father appeared in court in September to give evidence to a judge after prosecutors accused them of evading 4.2 million euros in taxes on payments from Adidas AG and PepsiCo Inc. among other companies.
According to court documents, the Messis diverted 10 million euros through a series of companies to tax havens in Belize and Uruguay from 2007 to 2009. Barcelona isn't directly involved in that case, which the government is pursuing after the Messis paid 5 million euros, the amount prosecutors say they evaded plus interest.
.Reported by Bloomberg