UN chief Ban Ki-moon asked Nigeria to review a new law against homosexuality, fearing it "may fuel prejudice and violence," his spokesman said Wednesday.
Under the law, same-sex couples who live together or attempt to solemnize their union with a ceremony can be punished with 14 years in prison.
"The secretary general strongly hopes that the constitutionality of the law can be reviewed," spokesman Martin Nesirky said.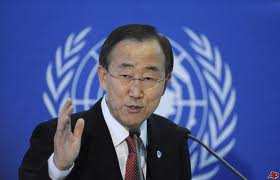 Ban "fears that the law may fuel prejudice and violence" and also believes that it "risks obstructing effective responses to HIV/AIDS," Nesirky said.
He also added that Ban has expressed concern over "reports that police in northern Nigeria have arrested individuals believed by the authorities to be homosexuals, and may even have tortured them."
Five men have appeared in court in the northern Nigerian state of Bauchi for allegedly forming a gay club, a court official said on Wednesday.