FUNSHO AROGUNDADE
Afrobeat King, Femi Kuti has said that he will not be attending the 56th annual Grammy Awards slated to hold on Sunday 26 January at the Staple Centre, Los Angeles, United States of America.
In a Twitter message posted on Wednesday via his Twitterhandle @Femiakuti, the legendary saxophonist said his sister, Yeni, will represent him as she will be in the United States, at the time, to attend to some family related business.
"My sister will be in the US to open a documentary on my father at about the same time. 2 save cost it's best she represents me @ d Grammys," Femi tweeted.
According to the music star, he has explained to the organisers why he will not be physically present at the awards and thus wonder the source of the reports that he is snubbing the awards because he's not sure of winning.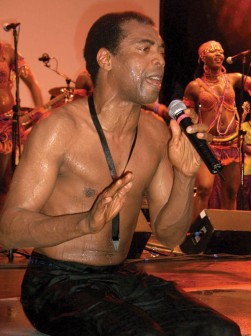 "Negative people, they should speak the truth and say y I cannot attend the Grammys and STOP LYING I AM SNUBBING THE AWARDS…if they speak the truth, people will understand instead of making it seem as if I'm rude, arrogant and snubbing the Grammys," he told some of his fans who have besieged his Twitterhandle.
Femi continued, "Before, record companies paid cost to attend the Grammys, now the artiste covers all cost. Common sense tells me to save and spend wisely."
"…I hope you all know that part of the Grammys isn't televised. So even if I was there you wouldn't see me," he added.
After the Grammys, Yeni is also scheduled to visit Salt Lake City.
Femi Kuti's album, 'No Place For My Dream' was nominated in the Best World Music Album Category, making it his fourth nomination at the Grammys.
He was nominated in the world music category in 2003, 2010, 2012 and 2013. The Afrobeat legend also shunned the last awards ceremony in 2012.
He was bombarded with questions why he didn't attend then.
In an interview with a national weekly, he explained:
"Everybody was worried why I didn't go. I said I would not travel because it's not my thing. After the Kora Awards, I didn't like the feelings I got. I nearly suffered high blood pressure. 'And the winner is, ' Everybody was apprehensive. And when they pronounced me the winner of West Africa, and they wanted to do the overall, I refused to come out. I didn't go into music because of that; not to go and sit in one hall and be pronounced a winner or not. I didn't want that," he said.