London-based Nigerian Elizabeth Pam has qualified for the quarter final stage of the second leg of the ongoing Western and Central African qualifiers for the African Junior Championship, AJC,  holding in Abuja, north-central Nigeria.
Pam who won her first two matches in her group (against Habibatou Diallo of Mali 6-0,6-0 and Faith Sunday of Nigeria 6-1, 6-4 on Thursday), lost her third match to Cote d'Ivoire's Maria Ange Sia 4-6, 2-6 on Friday, but had  done enough to qualify for the next stage of the event in the girls' U-16 category.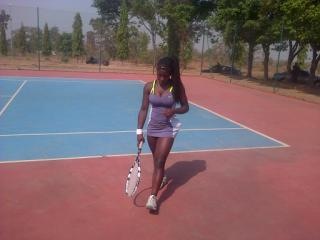 After a very difficult game Pam told P.M.NEWS Sports at the Abuja National Stadium that she committed a lot of errors during the match.
She explained that she was happy that despite the loss, she will still progress to the quarter-final stage of the competition when the results are compiled later on Friday.
"My opponent really played very well and then, I helped her by committing many errors in the match.
"I am not too disappointed because I already won my other matches before playing against Sia and I am sure that I will make it to the quarter final when the officials compile the group results," she said.
In the results of matches involving other Nigerians decided today, Sylvester Emmanuel walloped Pape Gaye from Senegal, 6-0, 6-1 while Benin's Dominique Gandonou gave Michael Michael from Nigeria a tough time before the latter won the game, 6-3, 7-6(3) in the boys' U-16 category.
In the boys' U-14 event, Chidera Anozie of Nigeria faced stiff resistance from Togolese Jacques Sewavia, but still conquered him in 6-3, 7-6(5) game,  just as Christopher Itodo from Nigeria outclassed Malian Kouma Bourama, 6-2, 6-2.
The draws for the quarter-finals will be held Friday night.
—Damilare Okunola/Abuja