By Prince Arinze Onebunne
If you really want to be a multi-billionaire, you cannot do it earning salaries. Dangote is not paid by anybody. Coscharis is not paid by anybody; they work for themselves. And in this clime there are so many persons that are working hard in spite of the situation we find ourselves. At JOVANA FARMS, we think that if we encourage the unemployed and farmers in activities that are very productive, those services that are required by even the oil companies, they will do much better. It is better to be in the agricultural sector because the potentials are here. The market is there too. So do not forget that the oil sector is employing few persons but the agricultural sector is going to provide a lot of opportunities and our strategies are pro-poor. So if you are talking of how many persons your intervention can pull at the same time; agriculture is just there for it.
In this fast paced world, people should get all the help they can in dealing with the sheer speed and harshness of everyday life. There have been a lot of ways discovered to cope with stress. Some watch movies all day during holiday; others listen to music, play and have fun with friends. While it may be true that all these are effective ways to cope with the everyday stress that we all are familiar to, there is still no denying the fact that activities involving nature remains the best practice. Breeding animals for therapy, such as geese, peacock, grasscutter and antelope is a wonderful way to explore this possibility.
Just like those who are passionate for gardening, people who have many years experience in keeping geese have always shared that the entire experience is a great therapy. From the moment they start laying eggs, up to the time the egg hatch, grow and become adults, there is something about geese that helps stressed out people to relax. So if you are among the millions of people who need a break from the world's break neck speed, you should consider raising geese as your stress getaway.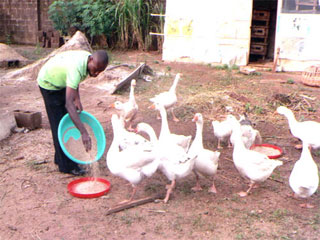 Geese are, however, the most rapid growing, have the longest commercial life and are the hardiest of all domesticated bird. They are good foragers, reaching a marketable weight with little supplementary feeding and can practically raise themselves. Geese adapt easily to different climates, its not surprising that these robust waterfowl were probably one of the first animals domesticated by man. In fact, geese are the popular bird during Christmas time in Europe. It's only in Africa that the raising of geese have not been exploited commercially as much as chickens or turkeys.
Geese possess terrific eyesight, good memories, and raucous voices; attributes that makes for excellent sentinels. What most Nigerians don't know is that geese are very cheap and easy to maintain and they provide animal protein as well as cash income. Your geese probably won't make you affluent by laying about sixty eggs a year, but they can earn their keep by supplying the following farm products and services that will surely bring in millions of naira:
(1) INFERTILE EGGS: Huge, good for catering, scrambling and baking, try marketing extras to bakery and fast food restaurants.
(2) MEAT: Higher protein contents, succulent, richer, palatable, and more tender than turkey and chicken. Provide a rich food source for an often-hungry populace
(3) FEATHERS/DOWN: Valuable for comfy pillows and light, insulating comforters and for other upholstery uses
(4) WEEDING/GRASS TRIMMING: Once used to weed a variety of crops, geese are again becoming popular weeders as organic method catch on (they fertilize the soil, too).
(5) TOURISM: Geese are animal of unique feature and this makes the animal tradable for tourist uses. The big versatile rare-waterfowl have been valued highly-even considered indispensable.
(6) SECURITY GUARD: Geese make ideal "watchdogs", they are unbridable guard animals.
(7) FERTILIZED EGGS/BREEDING STOCK: If you raise purebreds, crossbreds or rare breeds, you can usually get a pretty good price for them, depending on your area of the country. At JOVANA FARMS, we have prolific breeds available for sale at N100,000 for 2-males and 3-females of 10-months old point-of-lay.
(8) PEST CONTROL: Chicken and turkey farmers keep geese to ward off poultry-eating predators. Rural dwellers like the way they gobble down diseases-carrying ticks, cockroaches, grasshoppers, and small snakes.
Geese farming is a trendy kind of "agribusiness", intending farmers can start out small with 2-males and 3-females while still holding down a full-time job elsewhere. In many ways geese farming is the perfect moonlighting business that can generate huge income. The geese farming industry is still an underestimated type of poultry in Nigeria. But it has a large sustainable market for its many products and uses.
Jovana farms organizes nationwide sensitization training seminars on the practical ways of making it through small scale animal farming. Attend our nationwide seminars nearest to you and know more opportunities in geese and other small animal farming. Visit us at www.jovanafarm.com or www.facebook.com/jovanafarm for more details TEL 08033262 808, E-mail: [email protected]