Hery Rajaonarimampianina, backed by strongman Andry Rajoelina, has been elected president of Madagascar, the country's electoral court ruled Friday after polls to restore democracy.
Rajaonarimampianina, 55, former finance minister in the regime set up in 2009, is "declared officially president of the Republic of Madagascar," with 53.49 percent of votes, said court president Francois Rakotozafy.
The announcement of the result had been delayed pending a court ruling on allegations of voting irregularities, following a challenge by his rival Robinson Jean Louis.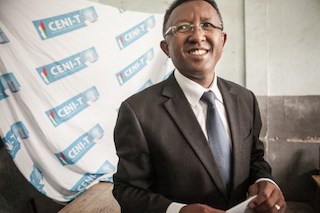 Jean Louis, the candidate supported by ousted president Marc Ravalomanana, won 46.51 percent of the vote.
Only half of almost eight million eligible voters cast their ballots in the December 20 polls.
The elections marked a final step to restore democracy on the island since Rajoelina seized power in 2009, with his rival Ravalomanana fleeing into exile to South Africa.
Proxy candidates ran in the vote, after the two rivals were prevented from running under international pressure over fears of a return to violence.