Governor Aliyu Wamakko would not return to the Peoples Democratic Party (PDP), an official government statement has said, to head off rumours following the resignation of Bamanga Tukur as chairman of the PDP.
The Commissioner for Information, Alhaji Danladi Bako, issued the statement in Sokoto.
Wamakko had recently defected to the All Progressives Congress ( APC) from the PDP with his teeming supporters.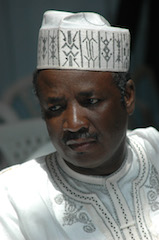 His Deputy, Alhaji Mukhtari Shagari, however, refused to defect to the APC.
Twenty seven of the 30 members of the House of Assembly also defected to the APC, while three lawmakers restated their loyalty to PDP.
"The attention of the State Governor has been drawn to statements in one of the national dailies quoting the Governor of Niger as saying that the five governors that left PDP for APC are returning as soon as the PDP is restructured.
"Gov. Wamakko hereby restates categorically and undoubtedly that he, along with his teeming supporters, have no such plans.
"He repeats and restates his avowed commitment to the cause he has embarked on based on the unshaken belief that the APC is the platform on which social justice, equity, equality and good governance can be better achieved in this great country."
The statement said Wamakko had restated that his decision to defect to the APC was taken with the "fear of Allah at heart and in response to the desires and wishes of the electorate that put him in office".
Gov. Wamakko, the statement also said, advised Niger State Governor to desist from making statements on behalf of other Governors, adding that no such decision was taken at any time in the recent past.