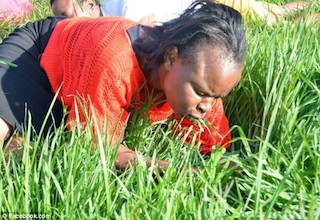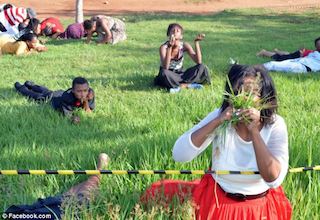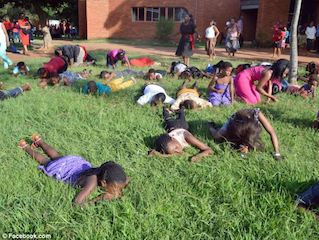 ADEMOLA ADEGBAMIGBE
 
Pastor Lesego Daniel of Rabboni Centre Ministries, in Garankuwa, north of Pretoria, South Africa, early this month, turned his church members to herbivores by asking them to eat grass for them to be "closer to God". The report, entitled "Lawn Again Christians" (a twist of Born Again Christians), was published by the Mail on 11 January 2014. While this act was widely condemned in the media (it even went viral in the social media), analysts want Nigerian church goers to look at themselves because they too have been made to eat grass one way or the other by their own pastors, because of their belief that the liturgical approach of their religious leaders cannot be questioned. In other words, pastors must be obeyed implicitly!
 
According to the Mail, the Pastor Daniel's controversial methods have drawn criticism from thousands of people "although members of his congregation swear by his methods – he is said to have claimed that humans can eat anything to feed their bodies and survive on whatever they choose to eat."
Another medium, Times Live, quoted a 21-year old law student, Rosemary Phetha, justifying her pastor's order: "Yes, we eat grass and we're proud of it because it demonstrates that, with God's power, we can do anything," adding that she had been battling a sore throat for more than a year, but it "was healed after she ate the grass."
Another church member, Doreen Kgatle, 27, of Ga-rankuwa, claimed that she suffered a stroke two years ago and could not walk "but soon after eating the grass, as the pastor had ordered, I started gaining strength and an hour later I could walk again."
It was a re-enactment of how King Nebuchadnezzar walked on all fours and, to teach him a lesson for his arrogance, ate grass for seven years before he was restored on his throne.
Notwithstanding the defensive testimonies of some of the faithful, not a few members started vomiting after the exercise.
However, Daniel has not made any comment in his own defence, but he posted on his Facebook wall: "God is at work and His people are testifying right now at the… TO GOD BE THE GLORY."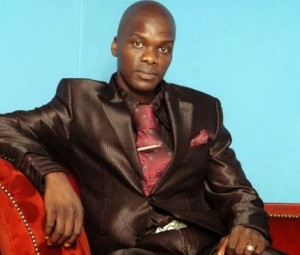 In Nigeria, analysts say that there are many way pastors have asked their church members to eat grass. One of these is the expensive universities built with the contributions of the members. But church members soon realised that they laboured for nothing: the universities were not built for them, as they cannot afford the fees when the institutions open for use. It is like an embrace with poverty and ignorance for the present and future generations of members, said a commentator.
A member of Winners Chapel who did not want his name in print narrated: "My wife and I carried head pans when construction of the university was going on. It was an alternative given by the church for those who did not have cash. But when the university opened, I could not send my son and my nephew there because I could not afford the fees."
The same thing goes for Redeemed members. A pastor had to resign and set up his own church after he was transferred out of Lagos. In his new location in Ondo State, he had to send text messages to people to help him pay his son's school fees at the Federal University of Technology, Akure. "If I could not afford FUTA fees, how could I, a pastor, pay for my children's education at Redeemers' University?," he lamented to P.M. News.
One thing that analysts point out is the danger in obeying pastors' instructions that fly against common sense. "Look at what happened to the followers of Jim Jones", a member of Winners Chapel in Lagos told P.M. News.
On 18 November 1978, Reverend Jim Warren Jones made over 900 members of his church, the People's Temple religious cult to commit mass suicide in Jonestown, Guyana, South America.
According to Wikipedia, The leader of the cult, James Warren Jones, was born on 13 May 1931, the son of a Ku Klux Klansman in Lynn, Indiana. After establishing his church in 1953, and believing a nuclear Armageddon was coming, he moved his congregation to the San Francisco Bay Area in 1965.
Trouble started in 1977 when a New West magazine article charged Jones with "faith-healing fakery, physical abuse of his parishioners and questionable finances." He moved to his jungle land in Guyana which he bought for a "People's Temple Agricultural Project," with about a select thousand members.
However when, in June 1978, the San Francisco Chronicle published People's Temple defector Deborah Layton's account and affidavit on the cult (weekly drills for mass suicide), this prompted the visit, on 17 November 1978, of Representative Leo Ryan to find out things for himself. Initially, Jones received the parliamentarian warmly, but when some members who were fed up with life on the camp wanted to leave with Ryan, they were murdered at the airstrip on orders from Jim Jones. When he knew that more trouble was in the air for him, Jones ordered his people to commit suicide by drinking cyanide-laced juice, which he called a "revolutionary suicide."
This and worse may happen if church members do not develop a critical mind.
If critical thinking was absent in the church, Christianity which went through a lot of evil and heresy in the middle ages would have been long dead. A member of the Redeemed Church pointed at what Martin Luther did in Europe "without which there would have been no Evangelical and Pentecostal Christianity."
Tired of the bad practices in the Catholic Church when pastors would collect money from church members before "forgiving them their sins" (the indulgences), Martin Luther, a reverend father and a professor of Theology, on 31 October 1517, wrote a thesis ("Disputation of Martin Luther on the Power and Efficacy of Indulgences,") to his bishop, Albert of Mainz, protesting the sale of indulgences.
According to a historian, he nailed a copy of his document publicly on the door of his church. He wrote that, since forgiveness was God's alone to grant, "Those who claimed that indulgences absolved buyers from all punishments and granted them salvation were in error."
What analysts said essentially is that for the preservation of Christianity for the present and future generations, Nigerian church goers need to point out what is wrong in the church. Keeping quiet in the name of "touch not my anointed and do my prophet no harm" will do more injury than good to the Body of Christ