South Sudanese government forces backed by Ugandan troops on Saturday recaptured the strategic town of Bor, defeating an army of thousands of rebels, officials said.
Army spokesman Philip Aguer said soldiers entered the town, capital of Jonglei State and situated 200 kilometres (130 miles) north of the capital Juba, in the afternoon following days of fierce fighting.
Uganda's army spokesman Paddy Ankunda also confirmed that Ugandan troops, who have been backing South Sudan's President Salva Kiir, took part in the offensive.
"Today the gallant SPLA (Sudan People's Liberation Army) forces entered Bor, they have defeated more than 15,000 forces of (rebel leader) Riek Machar and frustrated his plans to attack Juba and install himself as the ruler of South Sudan," Aguer told reporters.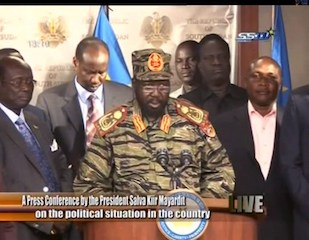 The town, from where rebels had been threatening to march on Juba, has changed hands four times since the conflict in the world's youngest nation began five weeks ago. Tens of thousands of civilians have fled the town, which was already reported to be deserted and largely destroyed.
Aguer said the battle had left "many dead", but did not give figures.
Ateny Wek Ateny, spokesman for President Salva Kiir, said the troops had been "congratulated for a job well done" but also promised they would "observe international rule of law" — a day after a top UN rights envoy reported that the conflict has been marked by mass killings, extrajudicial killings, widespread destruction and looting.
"If there are people captured they should be kept in regards to the international law," the spokesman said.
Heavy fighting was meanwhile reported to be continuing in and around the key oil town of Malakal, capital of Unity State and one of the main battlefields since fighting erupted last month between rival forces loyal to President Kiir and his sacked deputy Machar.
The government meanwhile said it was optimistic it may soon sign a ceasefire agreement with rebels, amid the first signs that peace talks — which have been taking place in a luxury hotel in the Ethiopian capital for the past two weeks — may be finally making progress.
President Kiir's spokesman said the government's chief negotiator, who had been back in Juba for consultations, was preparing to return to Addis Ababa intent on signing a truce.
"The government is ready to sign a cessation of hostilities tomorrow or on Monday. The chief negotiator had come here to consult on the conditions imposed by the rebels," he added, without specifying if all of the differences had been ironed out.
'Urgent need to save lives'
Speaking in the Ethiopian capital, top rebel negotiator Mabior Garang said a draft deal presented by IGAD, the East African bloc that is brokering the talks, had been accepted by the rebel side.
"We have seen a draft agreement for a cessation of hostilities that we could sign, but we are waiting for our counterparts (the government) to agree," he said, but cautioned that the opposition had doubts about the government's "sincerity".
"They might be trying to improve their situation on the ground militarily before we reach an agreement," he added.
The Ethiopia-based African Union also said it was getting increasingly frustrated with the slow pace of talks.