Kazeem Ugbodaga
T
The Nigeria National Petroleum Corporation, NNPC, pipeline along the Lagos-Ibadan Expressway, near Arepo area of Ogun State, Western Nigeria was gutted today, the National Emergency Management Agency, NEMA, said.
NEMA spokesman, Lagos State, Ibrahim Farinloye said the fire erupted as oil thieves struck again by bursting the pipeline.
"NEMA was alerted and subsequently informed the NNPC on the development after long cessation of their activities.
"The pipeline exploded as a result of the activities and there are heavy fire balls from the scene," he stated.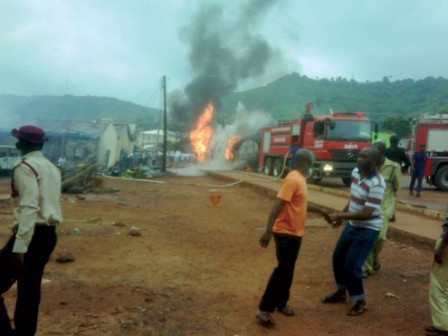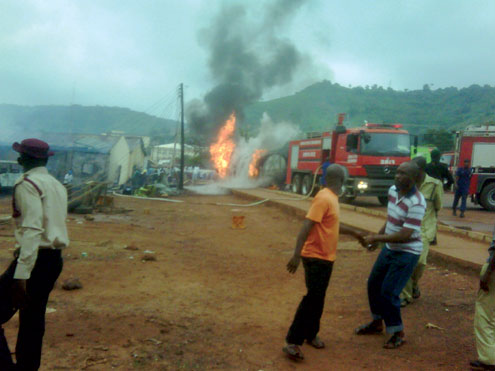 He added that NEMA was informed about the development late and that the agency still went to the scene to mobilize to put out the fire.
"Supplies sources and valves of the pipelines have been blocked and shut to suffocate the fire in order to put it out easily," he said.
In another development, three tankers were burnt on Sunday in Lagos following an explosion around National Theatre area of Iganmu Lagos.
The accident happened , when people were trying to transfer fuel from one tanker to another.
The National Emergency Management Agency, NEMA, said that the tanker, with 40,000 litres of Premium Motor Spirit, PMS, exploded during the transfer of the fuel but noted that no life was loss.
The incidence was said to have occurred around 11.00am as fire fighters and emergency officials battled to put out the fire which gutted other tankers. Loss of lives was averted as the incidence happened on a Sunday as people were not at work, which could have worsen the situation.
NEMA's spokesman, Lagos State, Ibrahim Farinloye told PM NEWS that responders were quickly mobilized to the scene to battle the fire, which was later curtailed.
He confirmed that three oil tankers were engulfed by the inferno, saying that "the fire has been brought under control. Two tankers have been totally burnt while the third tanker is partially impacted."
Farinloye said there was no injury at all and there was no casualty," he said.