Taiwo Adelu
With his 35 years in the ring, Tony Destroyer from Delta State stood tall as the last man in the ring to win the Royal Rumble bout, the star fight of the third night of 3rd edition of BRF Wrestlemania.
The Royal Rumble is a fight involving no fewer than 10 wrestlers fighting each other at the end of which the last man standing is adjudged as the winner of the competition.
Tony Destroyer who brought his daughter and wife to watch the fight made known his intention of winning the Royal Rumble from the start of the bout as he allowed the other wrestlers to beat each other first.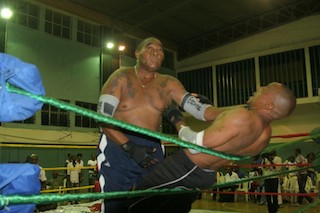 "I knew from experience that I have to conserve my energy so that when others are exhausted, I will take them up one after the other. This was my secret and it was so easy to fight my way out of the other nine wrestlers," he said after he won the Royal Rumble.
In other bouts of the night, Antom Ant-Ozoghe defeated Young Mike. Nigeria Wrestling Federation, NWF, light heavyweight king, Young Stamina was too good for Dangerous Angle who was beating to the extent that he had to run outside the canvass for safety.
Captain Thunder knocked out Kingstone in a one sided fight.
Tya Mupepe of Congo DR won his fight against Sparkling Angel from Sierra Leone.
The heavyweight fight between Iron Scatter and Big Fish could not produce a winner as the two wrestlers beat each other to the point that none of them could stand up.
De Blaze showed her superiority over Living Star in one of the ladies fight, while African women champion, Tina Terror also beat her rival, Lady Bunmi.