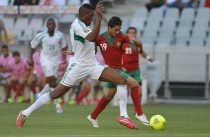 President Goodluck Jonathan has congratulated the Super Eagles of Nigeria for what he described "as their exhilarating come-back victory" over their Moroccan counterparts in Cape Town in the quarter-finals of the ongoing African Nations Championship.
In a statement issued by Reuben Abati, "President Jonathan applauded the indomitable spirit with which the Super Eagles fought back from being three goals down to snatch victory from the jaws of defeat and win a most memorable victory, with almost the last kick of the match".
The President commended the courage, patriotism, determination and dedication to national service exhibited by the Super Eagles today to all other Nigerians, Abati said
Jonathan urged the team to maintain "their commitment to national duty until ultimate victory in the continental soccer championship for home-based players is achieved."
According to Abati, President Jonathan "assured the team and their handlers that they will continue to receive the fullest possible support from the Federal Government and all Nigerians as they strive to add the African Nations Championship trophy to the African Nations Cup which Nigeria won last year."
The Super Eagles were three goals down in the first half, but in an amazing comeback, the Eagles erased the goal deficit and edged out the Moroccans in the 111th minute of the extra time.