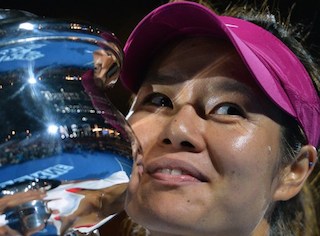 Forget Serena Williams and Maria Sharapova — Li Na is regarded as the hottest property in tennis, not just because of her ability, but because she has opened the door to the sport's future.
In becoming Asia's first Grand Slam champion at the 2011 French Open, the wise-cracking Chinese star brought tennis to a huge potential new audience including 1.3 billion of her compatriots and a region encompassing two-thirds of humanity.
Women's Tennis Association (WTA) chief Stacey Allaster has put Li, 31, front and centre of a concerted push into Asia including multiple new tournaments in China and the end-of-season championships in Singapore.
In September, Li's home city of Wuhan will host a new, premier-level tournament, one of six WTA events on Chinese soil this year.
So when Li won her second Grand Slam title, against Dominika Cibulkova , 7-6 (7/3), 6-0, in Saturday's Australian Open final, it's fair to say the result was cheered at the highest level.
Li was the cover girl for last year's Time magazine issue rating the world's 100 most influential people, and she is listed by Forbes as the globe's second highest-earning female athlete behind Sharapova.
After a fallow period following the 2011 French Open victory, when the distractions of sponsors and media drove her off her game, she has been reborn since teaming with coach Carlos Rodriguez in 2012.
And despite toying with the idea of retiring last year, because of poor results and press criticism, she has found the form of her life as she heads towards her 32nd birthday next month.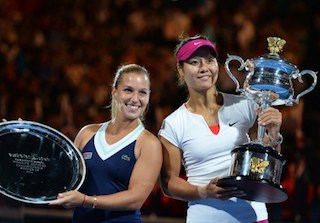 Li finished last season at world number three, the highest ever by an Asian player, and contested the final of the eight-player season climax, the WTA Championships in Turkey.
And now in Melbourne, she has become the first Asian winner of the tournament tagged "the Grand Slam of Asia-Pacific", after losing two finals in 2011 and 2013.
"I finally got here," she told the crowd.
Much has been made of her brave and career-defining decision to opt out of China's rigid state sports system and go it alone, hiring her own coaches and controlling more of her winnings.
Often seen as a maverick, she also defied Chinese convention by getting a tattoo — a red rose, on her chest — and was prepared to ditch her husband, Jiang Shan, as coach in favour of Rodriguez.
She said the move not only resurrected her career, but also saved her marriage.
The Chinese system initially groomed Li for badminton, following in the footsteps of her father, who was a successful player. But she was switched to tennis, against her wishes, at the age of nine.
"At the time, tennis was not so popular in China. After my family saw the court, they said, 'okay, we'll change'. I was like, 'why didn't you ask me?'" she recalled later.
Li's father passed away when she was 14, and she briefly gave up tennis in her early twenties to study journalism, frustrated by her inability to reach the main draw of Grand Slams.
But a plea to play in a national competition reignited her passion for the game, and she became part of the vanguard of Chinese women's players who broke new ground over the past decade.
In 2004, she became the first Chinese woman to win a WTA title, in Guangzhou, and later she was the first to reach a Grand Slam quarter-final, at 2006 Wimbledon, and the first Chinese player to break the top 10.
After leaving China's state system in 2008, her breakthrough season was 2011, when she won in Sydney before reaching the Australian Open final, where she tearfully went down to Kim Clijsters.
However, she would have just months to wait for a historic Grand Slam title and in June that year, she edged gritty Italian Francesca Schiavone in two tight sets to lift the French Open title.
Now, with two major titles to her name, she has proved she's no one-Slam wonder — and has again raised the sport's profile in the eyes of the massive Asian audience.