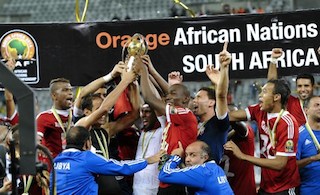 Libya won their first continental tournament Saturday after beating Ghana in the African Nations Championship 4-3 on penalties when their final ended 0-0 after extra time.
Excellent goalkeeping by the Mediterranean Knights' Muhammad Nashnoush and a poorly-aimed attempt that went wide from Ghana's Joshua Tijane clinched the victory following a lacklustre game.
A fast-paced start raised expectations of an energetic clash, but play slowed after the first 15 minutes and failed to recover.
The match ended goalless after extra time, mirroring the result from both semi-finals.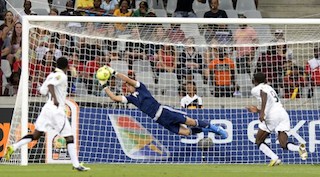 The best goal opportunities appeared in extra time, when play picked up as both teams frantically tried to score in the quarter-full 64,000-seater Cape Town stadium.
Having come on the pitch late in the second half, Libya's star scorer Abdelsalam Omar failed to add to his two earlier goals in the tournament.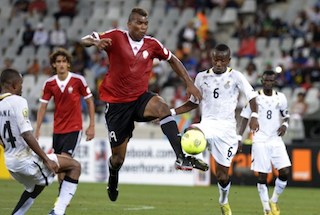 He came within a hair's breadth of hitting home 16 minutes into extra time, but his header in front of the box went straight into keeper Stephen Adam's hands.
South Africa's Bernard Parker was the highest scorer with four goals, though the hosts fell out in the group stages.
Black Stars goalkeeper Adams shone during the game with daring saves, but was left dumbfounded when it was most important in the penalty shootouts.
Here Nashnoush dealt a psychological blow to the West African side by blocking their first two attempts.
Ahmed El Trbi scored Libya's sixth spot-kick with Joshua Tijani missing his for Ghana.
Libya become the second champions of the tournament, which is reserved for home-based players from around the continent, joining Democratic Republic of Congo who won the inaugural edition in 2009.
Earlier the evening Nigeria beat Zimbabwe 1-0 for third place.