Funsho Arogundade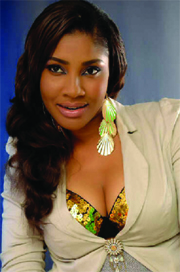 Nollywood actress and model, Angela Ijeoma Okorie, has debunked the rumour of her death during child birth which circulated on Sunday morning through Blackberry Messenger broadcast.
In a message sent through her Facebook page on Monday, the pretty fast rising actress said she is very much alive and bubbling at the movie set of Tchidi Chikere in Enugu, southeast Nigeria.
"Don't mind the haters, it is their handiwork, I'll deal with them very soon, I am not dead, in fact as am speaking to you now, am in Enugu, shooting a movie, that's the work of hateful bitches and I would soon deal with them! Angela Okorie is on set right now with Tchidi Chikere," Angela wrote on her Facebook page.
She added: "I am not dead, I'm balling hard. As a matter of fact, 150 years have been added to my age. I bear the mark of Jesus Christ. RIP to all the people who used my photo on their blogs, newspapers and dps, saying I Angela Okorie is dead. I'm still the unstoppable moving train. My God is alive. Him alone can take my life."
A BBM broadcast stemming from a statement released by the Rivers State chapter of the Actors' Guild of Nigeria had swirled around confirming the death of a member of the chapter.
"The Actors Guild of Nigeria, Rivers State Chapter regrets to announce the painful loss of our member, Mrs. Ijeoma Okori of Eleme Satellite, who died during childbirth this morning (Sunday). It pains more to know that our Comrade died alongside her twin baby," the statement reads.
Many had mistaken the deceased for Angela due to the near similarities in their names.
Angela was born and raised in Cotonou, Benin Republic. She relocated to Nigeria mid-2000s for her tertiary education at the University of Lagos. During her undergraduate days, she sealed a modelling deal with Orange Drugs as one of the faces of their Delta Soap.
The married actress and a mother of one got into Nollywood in 2009 and since then has featured in many movies.