Umoh-Obong Kingsley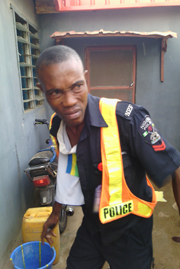 There was drama at Cele Bus Stop, Shasha, a suburb of Akowonjo in Alimosho Local Government Area of Lagos State, southwest Nigeria when a 30-year old man identified as Chinwendu Iwechukwu from Imo State, battered a policeman and tore his uniform.
The incident occurred around 8a.m. on Tuesday when the police officer, Corporal Onofe Emmanuel, attached to Shasha Police Divisional Headquarters, was sent to control traffic along Shasha Road caused by a truck parked by the roadside.
On getting there, Corporal Onofe tried to control the traffic by asking the drivers who drove against traffic to reverse and join other vehicles on the right lane so as to pave way for oncoming vehicles to pass.
The driver, whose identity was unknown as at the time of filing this report, was said to have started an argument with the police officer and attempted to hit him if he refused to get out of his way.
While the argument lasted, an eyewitness, who did want his name mentioned, said the driver parked his car and the suspect, Chinwendu, who was given a lift by the driver, came out of the car and started battering the police officer.
"The police simply asked them to reverse so that the road can be cleared for oncoming vehicles to pass and everybody would go their way, but the driver started using his car to push the police officer. After he parked, Chikwendu started shouting: 'where is the policeman? Let him come and fight if he has power.' Tomorrow we will say policemen are wicked. Simple instruction, we can't obey," the eyewitness said.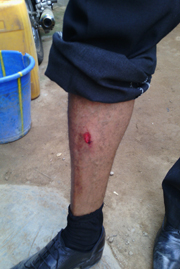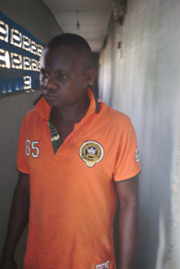 According to the policeman: "I was sent to control heavy traffic caused by a truck that was parked along the road. When I got there, the road was blocked because drivers were driving against traffic. I asked them to reverse but one of the drivers raised an argument. He then parked his car and the suspect came out and started beating me up and tore my uniform."
The driver, on sensing danger, reportedly fled with his car while Chinwendu was taken to Shasha Police Divisional Headquarters, Afonka.
The DPO of Shasha Police Divisional Headquarters who did not want to disclose his name said the suspect would be charged to court immediately for assault.