Chelsea manager Jose Mourinho described his side as "the little horse" in the Premier League title race despite their impressive success over Manchester City at the Etihad Stadium.
Chelsea travelled to Manchester on Monday knowing that defeat would leave them six points behind City, but they won 1-0 through Branislav Ivanovic's first-half strike to draw level on points with their rivals.
The two clubs now trail leaders Arsenal by two points with 14 matches of the season remaining, but Mourinho is insistent that his team remain a work in progress.
Asked if the duel for the title was a three-horse race, he replied: "Two horses and a little horse, that still needs milk and to learn how to jump. A horse that next season can race."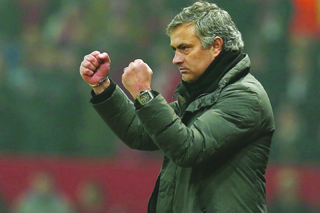 When it was put to him that Chelsea at the very least stood a chance of winning the league, he replied: "I don't agree.
"We lost points at home against West Brom, against West Ham, we lost at Stoke, we lost at Newcastle.
"We are a team in evolution, but this is the kind of performance that helps the team to grow up a lot. Tactically, mentally, I think it was fantastic."
City had won all 11 of their previous home games in the league, scoring 42 goals, and had won 17 of their 18 matches at the Etihad in all competitions, losing only to European champions Bayern Munich in the Champions League.
They enjoyed the majority of possession against Chelsea, but it was the visitors who possessed the greater cutting edge.
Having weathered early pressure from the home side, Chelsea took the lead in the 32nd minute when Serbian defender Ivanovic bludgeoned home a low drive and the visitors went on to hit the woodwork on three occasions.
City's preparations were upset by the loss of Brazilian holding midfielder Fernandinho to injury, with Argentine centre-back Martin Demichelis proving an unsteady replacement.
The hosts were also without midfielders Samir Nasri and Javi Garcia and top scorer Sergio Aguero due to injury, and manager Manuel Pellegrini felt that their absences were telling.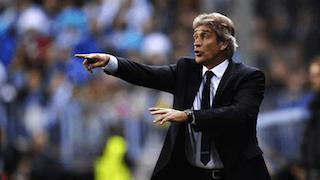 "Of course, (Fernandinho) is a very important player for us," he said.
"Not only Fernandinho; you must add Samir Nasri, Aguero, Javi Garcia, because (if) Fernandinho can't play, Javi Garcia can play in his position.
"(James) Milner was not 100 percent, neither was Alvaro Negredo. And it's too much advantage for a team as important as Chelsea."
On Fernandinho's injury, he added: "Fernandinho has a muscle injury. We'll see tomorrow (Tuesday) how long is it, but maybe a pair of weeks, three or four weeks."
City had not failed to score in a home league match since a 0-0 draw with Birmingham City in November 2010, but Pellegrini played down the significance of his side's setback.
"For Chelsea it was a decisive game, not for us," he said.
"If we won, we were six points ahead of them. Now we are two points behind Arsenal. We have 39 points to play for.
"Nobody is thinking about records. We are just thinking about winning the games."
Mourinho, meanwhile, claimed that the inspiration for his side's victory came from team masseur Billy McCulloch, who gave the pre-match team talk.
"I didn't speak. It was Billy the masseur that spoke to the team," Mourinho said.
"He was screaming so much in Scottish I didn't understand really. I didn't understand, but the players were clapping."
Mourinho also paid tribute to 23-year-old Belgian winger Eden Hazard, who tormented the home side throughout the game and played a telling role in the build-up to Ivanovic's decisive goal.
"I keep saying that he has to improve. He needs to have his feet on the ground," Mourinho said.
"(Cristiano) Ronaldo and (Lionel) Messi are Ronaldo and Messi. And Eden Hazard is probably the best young player in the world, with legs to go there. Give him time."