Damilare Okunola
The tennis courts of the National Stadium, Surulere, Lagos have been shut.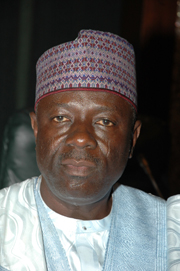 The lockdown of the courts was as a result of the crisis that erupted because members of Mainland Tennis Club prevented some national tennis players from training on the courts. Four of the seven courts in the stadium were concessed to members of the club by Nigeria Tennis Federation, NTF,
A representative of the players, Destiny Ford Da Silva, told P.M.NEWS Sports Friday morning that the stadium's management ordered that the tennis courts should remain under lock since the club members and the players could not come to an agreement over the usage of the courts.
"The stadium's manager ordered that the courts should be shut since the players and the club members did not come to a reasonable agreement in the meeting held with both parties on Tuesday.
"The problem now is that the players don't want to be using the three courts at the back as proposed while members of Mainland Tennis Club vowed never to allow the players the usage of the four courts concessed to them by the NTF," Da-Silva who had represented Nigeria at the Euro-Africa Davis Cup Championship said.
President of Mainland Tennis Club, Mr. Shola Taylor, noted that it makes no sense for the club to allow players train on the courts which the club maintains.
"How can the players think they can have absolute control over a place which they do not maintain?
"We do all we can to ensure that the tennis courts which were concessed to us are put in proper shape and maintained. Some of these players come here to do things other than training on these courts," Taylor said.
Meanwhile, president of the Nigeria Tennis Federation, NTF, Engr. Sani Ndanusa, said that the crisis will soon be resolved as another meeting has been called between the players and the club on Monday to find a lasting solution to the problem.
He said: "The issue is under control and I can assure you that the players will be allowed to train at the stadium especially when the African championship in Kenya is around the corner.
"Everything will be resolved as soon as possible because we want peace to reign in our sport," said Ndanusa who is the president of Nigeria Olympic Committee, NOC.
Load more