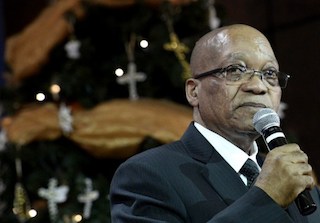 President Jacob Zuma announced Friday that South Africa will hold its fifth democratic general election on May 7, a vote which promises to be the sternest test yet of the ruling ANC.
The vote — which will elect a new parliament, and in turn the president — will see the favoured African National Congress face a phalanx of insurgent opposition parties who have fastened on to widespread popular unease.
The ANC is the strong favourite to win the polls but pervasive inequality, joblessness, corruption and government incompetence have all sullied the party's image.
Some predict its electoral support will fall below 60 percent.
Zuma himself heads into the election as the ANC's presidential candidate, with his own standing significantly reduced.
He has been beset by a litany of scandals, crowned by the revelation that $20 million of taxpayers' money was used to refurbish his rural homestead.
This will also be the first election since the death of Nelson Mandela, the nation's founding father, the country's first democratically elected president and the ANC's talismanic leader.
"These are historic elections as they take place during the 20th anniversary of our freedom from apartheid bondage," Zuma said, foreshadowing a campaign that is expected to focus heavily on ANC's past glories.
"They provide an opportunity for us to further consolidate the democracy and freedom that we worked so hard to achieve, and for which esteemed South Africans such as former President Nelson Mandela sacrificed life's comforts for."
The ANC will face off against the centrist Democratic Alliance and the left-wing Economic Freedom Fighters of Julius Malema.
Its strongest challenge may come in provincial elections, particularly in Gauteng, the country's most populous region — which encompasses Johannesburg and Pretoria.
The province has been at the centre of a wave of violent protests over the government's failure to provide basic services and which have seen as many as nine protesters allegedly shot dead by police.