A Nigerian bricklayer, Mr Adewale Omole has abandoned his wife in the hospital after he heard that she was expecting triplets. He did not even wait for the woman to give birth before he vanished.
The wife, Abosede delivered the triplets on Friday in Ado-Ekiti, capital of western Nigerian state of Ekiti.
Narrating her story, Mrs Abosede Omole, who already had two children, told newsmen that her husband abandoned her and the babies. She said that her husband started behaving strange after she went for a scan in Lagos where she was told that she was expecting triplets.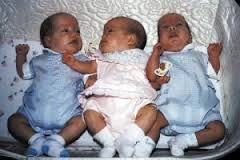 Abosede, gave birth at the Ekiti State University Teaching Hospital (EKSUTH).
"My husband abandoned me even before I gave birth and he has refused to perform his responsibility as father. He left me without food. That is why I had to relocate to this spiritual home where I have received spiritual succour and financial assistance. Since the sudden disappearance of my husband, life has not been the same again, as I, the two children and the newly born triplets are finding it difficult to survive. I am begging him to come back for the sake of these innocent babies," she pleaded.
Abosede appealed to Governor Kayode Fayemi of Ekiti and well meaning Nigerians to come to her aid.
Confirming the story, the Matron in-charge of the maternity at EKSUTH, Mrs Adenike Oluyide, called on well wishers to assist Abosede, as the triplets are currently at the Special Baby Care Unit of the hospital.
A member of Sabbath Mission Church, Omiolori, Okesa, Ado-Ekiti, who came to the hospital to see the woman and her children, confirmed that Abosede came to the church and was taken to the hospital.
The church member, who pleaded anonymity, said the leadership of the congregation felt she could benefit from the free medical programme of Ekiti State Government for women and children.