A fire killed 12 people and injured 130 others in a hotel where pilgrims had been staying in the Saudi holy city of Medina on Saturday, state-run news agency SPA reported.
Officials did not identify the victims but said around 700 pilgrims had been staying at the hotel in Medina, in western Saudi Arabia, to perform the Umra, the minor pilgrimage.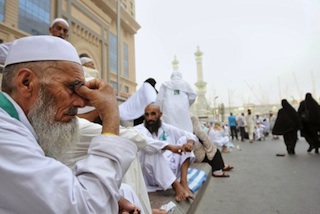 Television stations in Egypt said Egyptians were among those killed in the blaze, and foreign ministry spokesman Badr Abdelatty said Cairo was "still trying to confirm the numbers" of nationals who died.
The fire broke out in the afternoon and was brought under control a few hours later, with survivors moved to other hotels in the city.
Authorities have launched an investigation into the cause of the blaze.
Once a year Muslims perform the hajj pilgrimage to Mecca, Islam's holiest city, but they can make the omra, or minor, pilgrimage to Saudi Arabia all year round.