Stephen Oni/Ilorin
The Kwara State chapter of the All Progressives Congress, APC, has alleged that the posting to the state of Mr. Austin Aisebo,as the new Commissioner of Police to replace Mr. Agboola Oshodi-Glover, was to fulfil the Peoples Democratic Party's agenda of intimidating and frustrating its members' constitutional rights of free association, freedom of expression and peaceful assembly like the case of Rivers State when Mbu Joseph Mbu was CP.
Aisebo was among the CPs whose postings to different states were announced recently by the Inspector General of Police, M. D. Abubakar.
Briefing journalists in Ilorin on Sunday 9 January, the state Interim Chairman of APC, Ishola Balogun-Fulani,said, " we have it on good authority that the new Commissioner of Police has been allegedly posted to Kwara state at the instance of the frustrated members of the PDP in the state to fulfil an agenda for the party."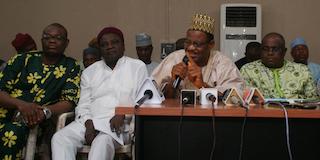 While urging the new CP to choose the path of honour and remain professional during his stay in the state, Balogun-Fulani warned that they would resist any attempt by the police or any other security agencies in the state to curtail the rights of APC members in favour of the PDP's. "Neither will we accept any partisanship or bias for any political party by the police or other security agencies in Kwara state," APC Chairman cautioned.
The new CP having found himself in a state, according to Balogun-Fulani,that is almost 100 per cent APC, might be tempted to want to do the " bidding of his masters in Abuja and their errand boys here in the state" by choosing to be partisan thereby disturbing the peaceful atmosphere in the state, pointing out that the state, unlike some other states with doubtful political majority, is without any iota of doubt now in the firm grip of APC. He therefore urged that nothing untoward should be done to tamper with the peace and tranquillity reigning supreme in the state.
The chairman commended the people of the state for embracing APC, particularly for turning out enmasse for the party registration which commenced last Wednesday,adding that while the collation is still ongoing, "we can safely say that APC has more than one million registered members in Kwara state alone.