The National Hajj Commission of Nigeria (NAHCON), said on Sunday that slots for 2014 pilgrimage remained 76,000, as it was in 2013.
The Public Relations Officer of the commission, Alhaji Uba Mana said in Abuja that the figure was released by Saudi Deputy Minister of Hajj, Dr Sahal Bin Abdallah, while receiving a delegation led by Nigerian Ambassador to Saudi Arabia, Alhaji Abubakar Bunu.
Mana in a press statement said the Nigerian delegation comprised representatives from the Ministry of Foreign Affairs and NAHCON.
It said the delegation was in the Kingdom to hold talks with their Saudi Counterparts as part of preparations for the 2014 Hajj.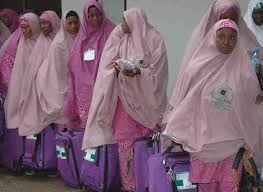 According to Bin Abdallah, the 20 per cent global reduction of last year will continue this year because the planned expansion is yet to be completed.
He assured that when the expansion was completed, Nigeria would not only be able to regain its original 95,000 slots, but would surpass it.
Responding, Bunu called for a better working relationship between the two countries and thanked Saudi authorities for continuously making the hajj less cumbersome.
Nigeria Consul-General in Jeddah, Ahmed Umar, decried the habit of arresting Nigeria pilgrims by Saudi authorities and taking them to prison without informing the Consulate.
He also expressed displeasure over denying Nigerian officials the access to such pilgrims.
The commission on its part lauded the 50 per cent of Nigerian pilgrims granted permission to land directly in Madinah last year and prayed for its sustenance.