Funsho Arogundade
A year into their controversial marriage, Nollywood actress, Uche Iwuji and her businessman husband, Juwon Lawal, have ended their matrimonial union.
This is coming two months after rumours of cracks in their marriage hit the streets, followed by a series of denials by the actress via Twitter.
The news of their split is also coming a few months after Uche and Lawal announced the arrival of their baby boy.
But on Friday 7 February, Lawal, the husband, finally released a press statement to confirm the end of his marriage to the controversial actress.
"This should serve as the official statement confirming the end to the marriage formalised on Friday, November 16th 2012 between the CEO of ABD Fuels Plc, Mr. Juwon Rasak Lawal and actress Uche Iwuji," the statement from Lawal's publicist reads.
According to him, he was in Europe on a business tour when the story of the crash first broke in the media. That was the reason he could not react appropriately to it, as well as the fact that he felt the situation could be redeemed.
He failed to give reasons for the separation.
There have been unconfirmed reports of infidelity and the issue of the sex tapes and nude pictures of Uche still in circulation on the social media as causes of their marriage break up, but Lawal said he will not comment on the causes as he will like to treat his estranged wife's case as that of "once a friend, always a friend", while the court processes are on already to sort out the divorce aspect.
Responding to the break up mess, Uche hit her Twitterhandle @oochey26 to lash out at those who are blaming her for the crash and joining the growing legion of Nollywood divorcees."
"To all my haters, go chop shit. Now I can have my life back, hahahahaha…" the actress tweeted over the weekend.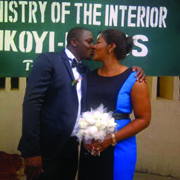 Uche has featured in numerous films including "Emotional Tears" and "Total Control," before she disappeared only to surface when her romance and marriage tales to Lawal hit the streets.
Meanwhile, this would be Juwon's third failed marriage and he has three kids from all the women.
Load more