As a career diplomat he would be expected to be able to converse in several foreign languages but it's doubtful that Nigerian Pidgin English would be one of them.
Yet the US ambassador to Nigeria took to the airwaves to speak in the vernacular about the most pressing issues between the two nations, from gay rights and presidential elections to visa rules.
"Me I no talk say sanction go dey for Nigeria," James F. Entwistle told presenter "Oga Madam" on a recent visit to Wazobia FM, the Lagos radio station that broadcasts entirely in the English-based patois.
"Make I repeat myself, the US government no say sanction go dey for Nigeria because of same-sex palava o."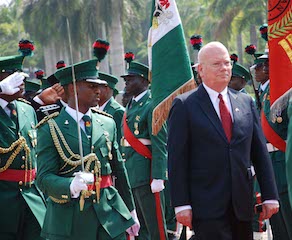 In other words, the US was not planning sanctions against Nigeria for passing a recent law banning same-sex marriages and civil partnerships despite the furore it has caused abroad.
Nor, he said, did Washington have a preferred candidate for next year's elections, at which incumbent President Goodluck Jonathan's ruling party is expected to be pushed hard by the main opposition.
"First make I tell you say US no get any candidate for mind," he said, according to the weekly English-language news magazine, Tell.
"The only thing wey go sweet us be say make the election dey transparent, credible and concluded."
"He knows a few words and phrases and received assistance from the staff to do the interview," a spokeswoman for the US embassy said.
The linguistic prowess of the ambassador — whose profile on the US Embassy website lists him as a French and Thai speaker — provoked a response from listeners.
Some were amused that a middle-aged white man in a suit was speaking the language of the street, Tell reported.
"Oyinbo man talk am for Pidgin and laugh wan kill me die. Lol," wrote one listener. (The white man is talking pidgin. I'm laughing so much I might die.)
Load more