The new Commissioner of Police in Rivers State, Mr. Tunde Ogunsakin today officially took control as the new commissioner of Police following the redeployment of Mr. Mbu Joseph Mbu to Abuja, Nigeria's capital.
Ogunsakin, warned that he would not tolerate indiscipline and corruption among officers and men of the command. He urged them to continue to be loyal to the Nigeria Police Force, warning that those who fail to do their jobs would be dealt with.
The new CP said; "I will not condone corruption at all. You know all these years; I have had the opportunity of working with anti-corruption agencies, which have strengthened me in the fight against corruption. Therefore, I have zero tolerance for corruption. While I am here as Commissioner of Police, corruption will not be tolerated.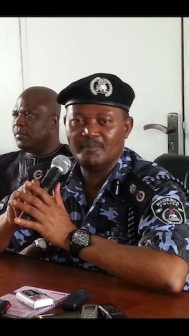 "I will not tolerate acts of indiscipline from you, the officers and your men; everyone is expected to do his or her job. I expect everyone to be committed to his or her job. I expect total loyalty to the Nigeria Police Force.
"If you don't perform your duties, or if you are found wanting in your duty posts, you will be summarily dealt with. I will be going out on patrol to check how officers and men of this command are doing in their duty posts.
"That brings me to the issue of cleanliness; I will deal with any policeman, who is in uniform but looks unkempt. I expect policemen serving in this command to be bold, cautious and firm. I am happy that we have an Inspector General of Police, who has a listening ear as it affects welfare of officers and men of the Nigeria Police."
Ogunshakin promised to improve on the efforts of his predecessor, Mbu. The new Commissioner of Police said he will pay a courtesy call on Governor Chibuike Rotimi Amaechi, today, Thursday, at Government House, Port Harcourt.
There was a mild drama at the Police headquarters, Moscow road, when some female policemen broke down in tears as Mbu was taking salute before bidding farewell.
"Mbu made sure that all the allowances meant for the Policemen in the state were paid to the last kobo. Look at the headquarters; it was Mbu that changed the face of the Command", one of the women said.