Funsho Arogundade
Following the success of auditions in Benin and Port-Harcourt, thousands of youths in the culture-rich state of Cross River and its environs recently made their way to Monty Suites, Calabar, Cross River State, with the hope of getting the judges' approval for the next round of the Etisalat-sponsored music reality show, Nigerian Idol.
The city presented a number of surprises as each of the contestants put in their best performance.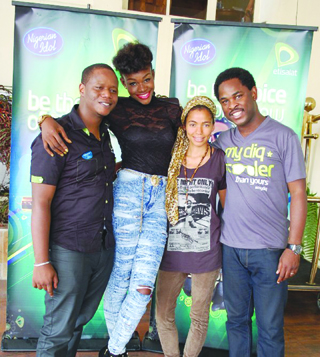 Enitan Denloye, Director, Brands and Communications, Etisalat Nigeria, applauded the gusto with which the youths in the region came out for the audition, saying that it is a testament to the abundance of talent in the country and the determination to showcase these talents.
"Etisalat is proud to present an international music platform that celebrates passion and nurtures talents in Nigeria. This season promises to be bigger and better, and already we have witnessed that at every audition location we have had so far," Denloye said.
Dodeye Mbang, 19, was a bundle of nerves when it was her turn to meet the trio of Darey Art-Alade, Nneka and Dede Mabiaku, this season's judges.
Nonetheless, the petite 300-Level student of Zoology and Environmental Biology, at the University of Calabar gave quite an impressive rendition of the popular Whitney Houston track Greatest Love of All.
The Calabar auditions also turned out to be a place for second chances. This was the case for Paul Enoma, a graduate of Mathematics from the University of Benin, who got a 'No' from the Judges during the Benin auditions. He came to Calabar having taken learning from his previous audition to secure a spot in the next round of the competition. Enoma finally got the 'yes' he craved for.
It would be recalled that Yeka Onka, Nigerian Idol season 1 winner had a similar experience after she auditioned in Enugu, Calabar and finally Lagos where she got a 'Yes'. The singer, who performs with her all-female band team and currently working on her album, was on hand to motivate the crowd during the auditions.
The next round of auditions will hold, for the first time tommorrow Saturday 15 February in Makurdi at the Smileview Hotel Extension and finally in Lagos on the 22 and 23 February at Dream Studios, Omole, Lagos.

Load more