Is Abubakar Shekau, the war-mongering Boko Haram leader still alive? Is he dead?
His stunning silence since the series of attacks unleashed on Borno rural communities in February has provoked new interest on his status—whether he is alive or dead as the Nigerian army claimed last year August.
The last time Shekau allegedly spoke on video was in December last year, after Boko Haram attacks on military targets in Damaturu, Bama and the Air Force base in Maiduguri.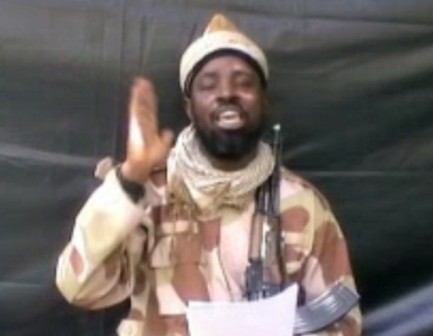 "This is a victory from Allah", said the wanted insurgent leader after claiming to have destroyed "21 armoured tanks" and killed "multitudes" in the raids.
The video release followed a similar one released last September after the insurgents attacked Benisheik, Borno State, where about 160 people were either shot dead or slaughtered and hundreds of houses burnt.
In the video, Shekau was filmed sitting in a jungle environment surrounded by dozens of lieutenants dressed in fatigues.
He said Boko Haram was celebrating victories in Benisheik, where more than 143 civilians were killed, in Monguno and surrounding northern villages where more than a dozen civilians have been killed that month.
On 19 August 2013, the Joint Task Force, JTF, spokesman in Borno State, Lt Col Sagir Musa, claimed Shekau was dead.
"Intelligence report available to the Joint Task Force, JTF, Operation Restore Order revealed that Abubakar Shekau, the most dreaded and wanted terrorist leader may have died. He died of gunshots wounds received in an encounter with the JTF in one of their camps in Sambisa Forest on June 30, 2013. Shekau was mortally wounded in the encounter and was sneaked into Amitchide-a border community in Cameroon for treatment from which he never recovered."
But in the September video, Shekau who appeared in military camouflage uniform, seated and surrounded by hooded insurgents said, "Here I am, alive, hale and hearty. Sagir Musa should bury himself in shame, President Jonathan (of Nigeria) should bury himself in shame, President Obama (of United States of America) should bury himself in shame, and President Francois Hollande (of France) should bury himself in shame, Queen Elizabeth (of England) should bury herself in shame.
"They said I am dead, but here I am. The world should know that I am alive and will only die at the appointed time. Everybody should be judged according to the dictates of his conscience. What I am doing is written in the Holy Qur'an and the Hadith and I will not stop."
Since January, the group has been unrelenting in carrying out attacks on both civil and military targets, ambushing nine soldiers in Adamawa state, and unleashing terror in rural Borno state, with impunity.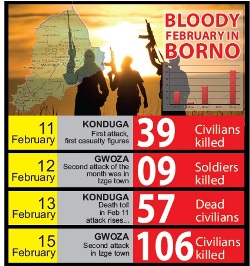 Over 200 people have been killed by gunmen of the group since 11 February and yet there has been no word from Shekau, claiming responsibility for all the atrocities.
Is he dead or alive? The jury is out awaiting yet another video or audio from this most wanted man in Nigeria.