Los Angeles based Nigerian born singer, Douye(pronounced Doye) is debuting with her sophomore album, a leading track of which is dedicated to the memory of Nigeria's world known musician, Fela Anikulapo Kuti.
'So Much Love', the title of the album blends Fela's afro-jazz rhythm and various reviews applaud the singer for her ability to fuse elements of varying genres and eras into a winning formula.
"Taking a bit of the old and a bit of the new to create a fresh sound requires great skill and care. This is the crux of Douyéism," says Eurweb.com. Douye was able to weave the mellow blend of silk and soul made iconic by artists such as Sade, Anita Baker, Dianne Reeves, Nancy Wilson, Chanté Moore, Regina Belle, and Rachelle Ferrell in her latest effort.
Featuring the musical prowess of fellow Nigerian and multi-platinum producer Dapo Torimiro, Grammy-nominated multi-platinum British songwriter Terry Shaddick, guitarist/ producer Chris Sholar and Grammy-nominated jazz keyboardist/ producer Philippe Saisse, So Much Love is a breathtaking tour de force that adeptly revisits the sound of early 90s Urban Adult Contemporary radio with a unique spin.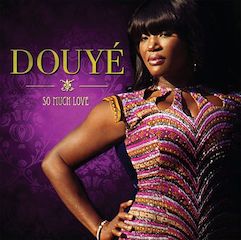 Laced with Douyé's smoldering vocals and seasoned with elements of jazz, R&B, and a dash of spicy Afrobeat, it goes without saying that So Much Love is destined to be one of the more feted independent releases of 2014.
Hailing from the Nigerian capital of Lagos, Douyé was raised in a household where the sounds of legends like Billie Holliday, Sarah Vaughn, Ray Charles, Ella Fitzgerald, Bob Marley, and Dinah Washington were omnipresent. And with that, Douyé had found her calling.
Watch Douye's track for Fela here:
So Much Love – A Tribute to Fela Kuti by Douyé from Life in Digital on Vimeo.
Later she attended the esteemed Musicians Institute in Hollywood as a vocal major. While at school, she was introduced to songwriter Terry Shaddick. Responsible for penning Olivia Newton-John's decade defining multi-platinum hit "Physical," Shaddick immediately recognized Douyé's unique innate talent and began collaborating with her on a series of songs that would eventually culminate in her debut album Journey in 2007.
Three years after her debut album Journey, Douyé is fully prepared to share the next leg of her wondrous journey with the world on So Much Love.
Hailed Nigeria's Sade, the new album is an exemplary testament to Douyé's growth as an artist, songwriter, and human being. Over the course of 13 tracks, So Much Love takes listeners on a ride through the full range of life's joys and beautiful struggles. The breezy tune "Life Is Good," featuring acclaimed saxophonist Eric Marienthal, is a whimsical number embedded with a reminder to enjoy the little things in life and live in the moment.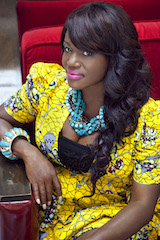 Since its release, the song has gained attention in media outlets in both the United States and Europe. "Life Is Good," produced by Torimiro, climbed to #9 on the UK soul chart and has remained in steady rotation on play lists at radio stations in Europe and stateside. Infusing Douyé's signature sound with a more contemporary R&B vibe, the Sholar produced "Til Morning Comes" finds Douyé caught up in rapture with that special someone.
Douyé unveils her more pensive side on the flamenco inspired "Wake Up," a song produced by Saisse that speaks to the issue of mental illness. Douyé rebounds and lightens the mood with her tribute to the days of her youth, "Golden Days." Produced by Torimiro and featuring smooth jazz trumpeter Rick Braun, "Golden Days" is a reflective song full of lyrics that reminisce on simpler times when being a free-spirited child was her only care.
One of the album's crowning moments comes in the form of her jubilant tribute to the late Nigerian Afrobeat legend and international icon Fela Kuti, "So Much Love." After reflecting on bearing witness to Fela's rousing live performances at his legendary venue The Shrine throughout her childhood, Douyé decided that a tribute to Fela was in order to lead off the new project.
Pulling no punches for So Much Love, Douyé enlisted the talents of young, in-demand Nigerian stylist Ugo Mozie (Chris Brown, Beyoncè, Sean "Diddy" Combs) for the album's cover photo shoot.
However, the undertaking would not be without its challenges. Douyé went through the arduous process of auditioning several producers with a maligned vision of what she's originally had in mind. But when she was introduced to Baba Ken Okulolo, a bassist who'd played in Fela's band back in Nigeria, she knew she'd found the right one. In the middle of the daylong recording session with over 12 band members, Douyé stepped away to have a spiritual conversation with Fela himself. "I meditated and prayed to Fela," she reveals. "I said, 'please listen to my call and bless me with your presence, I'm doing this as a tribute to you and I want your spirit to flow in me and take on this song. I want to do it right. To honor you, what you've done, and your movement that continues to live. I need your blessing'." It wasn't long before Douyé returned to the vocal booth, unleashing her soaring vocals on the track with the spirit of Fela fully engaged. "I tapped on the mic and banged it," she exclaims.
"I'm an independent artist, and I try to look beyond that and instead, present myself as an artist that seeks excellence in my artistry".
"I try not to limit myself. Otherwise, I wouldn't be shooting for the stars. So Much Love is not just a title. It represents everything that I've given to this album. Everyone that has been part of it has given the project so much love and more.
Douye' says, "In Africa, we have many sayings, there is one that translates to when you're cooking a good soup, you don't rush to drop everything in. Because it's a process. You take your time so that the love will reflect in the soup. You can't rush a good thing. That's the way I feel about the new album."
From the weblog of Douye: http://douyetheartist.com/about