The European Union on Monday lifted a visa ban and assets freeze against members of Zimbabwe's ruling elite with the exception of President Robert Mugabe and his wife, who remain blacklisted, EU diplomats said.
As the EU continues to ease sanctions against Harare as an encouragement to reform, the 28-nation bloc is expected to take a significant political step Tuesday by agreeing to resume development aid to the government.
EU assistance has continued to flow into the country since 2002, when the EU imposed sanctions in protest against rights abuse and flawed democratic processes. But for more than a decade the aid has been channelled through non-governmental agencies and UN organisations such as UNICEF.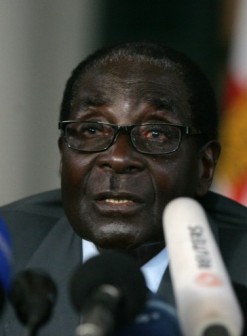 From February last year, Brussels progressively suspended sanctions against more than 100 people and a dozen firms.
EU ministers on Monday removed restrictive measures still in place against eight of 10 Zimbabweans, but left Mugabe and his wife on the list, diplomats said.
Mugabe, who turns 90 on Friday, had been invited to an EU-Africa summit in Brussels in April but the veteran Zimbabwean president had so far not replied.
"The head of state of Zimbabwe has been invited but the EU has had no response so far," said an EU diplomat who asked not to be named.
In September, the EU lifted its sanctions on the Zimbabwe Mining Development Corporation, operator of one of the world's largest diamond fields and which was blacklisted for allegedly channelling funds to Mugabe's ZANU-PF party