A 25-year old woman in a remote village of Yolde Pate in Yola South Local Government Area of Adamawa state, north east Nigeria, claimed on Tuesday she delivered a 'sizable' stone.
Amina Bello of Unguwar Jalo village, narrated her story at the opening ceremony of Vesico vaginal fistula (VVF) free medical treatment in Yola Specialists Hospital.
Bello, who was also a VVF patient told the gathering that after four years pregnancy, she finally delivered a sizable stone last year.
"I was holding a pregnancy for the duration of four years, which I bitterly suffered because of the heavy weight of what is contained in the stomach.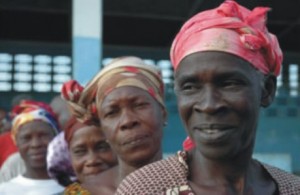 "It was last year around June, I started feeling labour and I was in that condition for three days and finally I delivered a stone,'' Bello said.
She said that it was after the delivery she now discovered that she was affected with VVF.
Responding, Dr Sunday Lengmang, Director VVF Centre, Jos, confirmed that giving birth to a stone or any object was possible.
Lengmang was in Yola to attend to the VVF patients for the duration of one week .
"Stones and other solid objects can form in a human body in different cases. Stones can form in a gall bladder, urinary bladder and other several parts of urinary tracks,'' Lengmang said.
The doctor explained that why women with VVF were prone to giving birth to stones or any solid object was because they drink less water to reduce urine leakage.
He said as a result of taking less water their urine become concentrated.
"Inside urine, there is salt, sodium and chlorine, and when the urine becomes concentrated the salt now crystallised and finally forms itself and latter end up as stone,'' he said.
Lengmang confirmed that three VVF patients had stones in their placentas and they would go under surgery.
He said the size of the stones uncovered from the three women was six by seven and three by four centimetres.
Lengmang advised VVF patients to drink more water instead of taking less to prevent them from risk of having stones.
Earlier, the wife of the Governor, Dr Halima Nyako, said the medical treatment was free and that over 150 women benefited in 2013.
Nyako said that the state government would establish a centre where VVF patients would be given free treatment