Nigeria's former President, Chief Olusegun Obasanjo, has declared that he is a card-carrying member of the Peoples Democratic Party (PDP) even as he inaugurated projects of Rivers government, which has joined the opposition All Progressives Congress.
Obasanjo made this known when he spoke with newsmen at the end of his two-day visit in Port Harcourt on Tuesday, where he inaugurated 16 projects completed by Gov Chibuike Amaechi of the APC
He commended the projects, especially the monorail which, he said, was a laudable one.
The former president said the criticism that trailed the project was normal.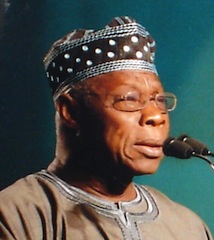 According to him, "anything good you are doing and there is no opposition, try to take a second look at it.
Obasanjo said that it was only Rivers state that could run a monorail transport because of its power generation.
"With 700 megawatts, you can dedicate 10 megawatts to the monorail; so, the only state in the country that can do that for now is Rivers,'' he said.
Obasanjo, also inaugurated the Buguma Fish farm in Asari Toru Local Government Area.
He urged the state to maintain the project, adding that it should ensure preservative processing to avoid spoilage and wastage.
Amaechi said that the reason for siting the farm in the area was to develop and create employment opportunities for the people.
The farm at present has 1,000 tonnes of fish which are expected to produce 60 million tonnes per annum.
Other projects inaugurated by Obasanjo, include G.U.Ake, Okporo and Elekahia Rumuomasi Roads; Songhai Farm in Bunu Tai, Banana plantation, Afam Power Station, Elelenwo sub- injection station.
The others are Model Primary Health centre, Akpajo, Eleme; Ambassador Nne Kurubo Model Secondary school, Ebubu, Eleme; St Andrew's Primary School, Prof Kelsey Harrison Hospital and three sports facilities.

Load more