South Sudan's army said Wednesday that it had lost contact with its troops in the key oil hub of Malakal following a major offensive by rebels.
The rebels have said they now control the northeastern town after launching an assault on Tuesday, throwing into doubt a ceasefire agreement signed in Ethiopia last month.
"I have no contact with the command in Malakal," army spokesman Philip Aguer told AFP, as the independent radio Tamazuj said a top government general had been seriously wounded in an attack reportedly involving tens of thousands of rebel fighters.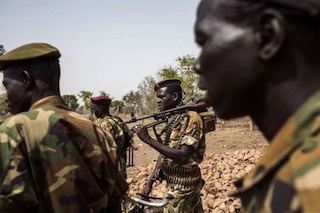 "The oil wells are under the control of the SPLA (the South Sudanese army) and there is no fighting there," Aguer added.
According to aid sources, Malakal's airport was closed on Tuesday evening and rebels were inside the town — although it was unclear if they had gained total control over the dusty settlement on the banks of the White Nile.
"There was the sound of heavy shelling this morning and then sporadic shooting. It seems the opposition control a part of the town and the airport, but the government soldiers are still fighting," an aid source said.
"We are in no position to confirm who is in control of Malakal town because our people have not been able to get into town," said Joe Contreras, spokesman for the UN mission in South Sudan (UNMISS).
Rebel military spokesman Lul Ruai Koang said opposition fighters were "chasing" government soldiers into the bush, and insisted that it was government soldiers who attacked first and violated the truce.
The United Nations said that 10 people had been killed on Tuesday in "inter-communal clashes" within a peacekeeping base in Malakal, where more that 20,000 people have been sheltering from the fighting, and that more clashes broke out on Wednesday.
Rebel fighters have also been reported to be patrolling outside the UN camp, taunting people from rival ethnic groups.
"Both parties to this conflict must respect the inviolability of the premises and facilities of the United Nations," UNMISS said in a statement.
It stressed UNMISS's "impartial role in the current crisis and its commitment to protect all civilians, whatever their background".
The unrest in South Sudan has left thousands dead and displaced 873,000 people, including tens of thousands who have crammed into UNMISS bases in fear of ethnic attacks by either President Salva Kiir's Dinka tribe or rebel leader Riek Machar's Nuer tribe.
South Sudan is the world's youngest nation, having won independence from Khartoum less than three years ago. The latest fighting erupted in the capital Juba on December 15 but quickly spread across the country.
The fighting around Malakal, the capital of Upper Nile state, appears to have been the heaviest to take place since the government of President Kiir and rebels loyal to former vice president Machar signed a ceasefire agreement in neighbouring Ethiopia on January 23.
On Tuesday, however, Kiir said he would continue to take part in ongoing but slow-moving peace talks that are underway in Addis Ababa.
The UN appealed at the start of the month for a colossal 1.27 billion dollars (925,000 euros) to respond to the humanitarian crisis, but says it is still one billion dollars short of the target