Dr. Sarah Omotunde Alade (OON), appointed acting governor of the Central Bank of Nigeria, by President Goodluck Jonathan today, has been the Deputy Governor, Economic Policy for the bank since 2007.
She is in her late 50s.
She replaces Sanusi Lamido Sanusi, who has been the governor the past four years.
She attended the University of Ife, Ile-Ife (now Obafemi Awolowo University) where she obtained a B.Sc (Hons) degree in Economics in 1976. She also obtained an M.Comm degree at the University of Melbourne, Melbourne, Australia in 1983 and a Ph.D Management Science (Operations Research), from the University of Ilorin in 1991.
She started working in 1977 with the Ministry of Finance and Economic Development, Ilorin, Kwara State. In 1991, she joined the University of Ilorin as a Lecturer in the Department of Accounting and Finance.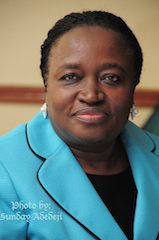 She joined the Central Bank of Nigeria in 1993 as an Assistant Director in the Research Department where she served as Head, State Government Finance Office (1993-1996), Head, Federal Government Finance Office (1996-2000) and Head, Fiscal Analysis Division (2000-2004).
Dr. Alade has served on the teams on major economic policy studies, and has been involved in the preparation of Central Bank of Nigeria's Monetary and Credit Policy Proposals over the years. She was actively involved in the drafting of the Medium Term Economic Programme (MTP) for Nigeria and the IMF staff Monitored Programme/Standby Arrangement.
She was appointed Director, Banking Operations Department in May 2004. In that capacity, she served as Chairman Board of Directors, Nigeria Interbank Settlement System (NIBSS) as well as Secretary, National Payments System Committee (NPSC).
Dr. Alade was a member of the Technical committee of the Vision 2010 and currently a member of the Technical Committee of Vision 2020 and member of the National Economic Management Team (EMT).
She is married and has children.
.Source: CBN website