Nigeria's Defence Headquarters (DHQ) on Thursday said that the military has embarked on specialised operation to flush out the Boko Haram insurgents from Borno, Yobe and Adamawa.
The Director of Defence Information, Maj-.Gen. Chris Olukolade, made the disclosure in Abuja when he briefed newsmen on the security situation in the three states under state of emergency.
Olukolade said the new approach marked another phase in the operations which were designed to further curtail the terrorists' activities.
"The specialised campaign, which has commenced is being undertaken simultaneously in Yobe, Borno and Adamawa.
"The operation is also in furtherance of efforts at apprehending the terrorists and ensuring that they do not escape out of Nigeria as they are now desperate to do," he said.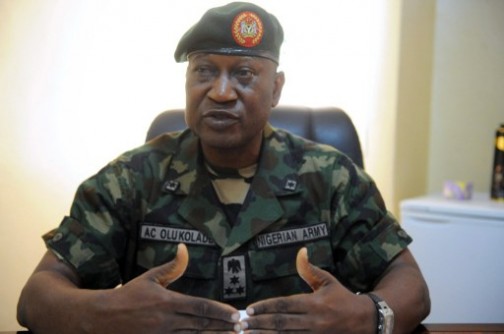 He said the seeming resurgent activities of the insurgents were at best a reaction to the renewed offensive against it.
"In desperation for money and food, they looted and burnt banks, shops and filling stations along their way through Michika as they headed for the Cameroon border.
"Six of their fighters were killed, two captured while nine of their vehicles were destroyed; one soldier and three civilians also died in the encounter.
"It is believed that those involved in this latest attacks are elements that perpetrated the mayhem against students of the Federal Government College, Buni-Yadi, Yobe, and other places.
"They have been holed up and are still engaged in suicidal fighting apparently with a view to attaining martyrdom status, as troops close in on the die-hard ones among them,'' Olukolade said.
He called on the citizens of the affected areas, particularly border towns, to assist security forces by reporting any movement of the group in their locality.
He said that this would enhance military operations and assist in apprehending or eliminating the terrorists.
Olukolade said that: "DHQ acknowledges, with grave concern, the recent mindless killings of innocent school children and other citizens in towns and villages following terrorist activities in some parts of the North-East.
"The dastardly act has expectedly attracted the reaction of well-meaning individuals who have been condemning the senseless bloodletting.
"Disturbing as this trend proves, the fact remains that the chilly episodes are simply typical of terrorists intention to intimidate the people into subscribing to their false claim to invincibility. (NAN)