Miss Genevieve Anaele was crowned the  beauty queen of Environment And Sanitation in Eko, Miss MBGE Environment, on 27 October and till next year, the number two queen under the registered trade mark, Most Beautiful Girl In Eko, MBGE, will use the platform to realise her childhood dream, which include helping the less privileged in the society and creating awareness about modern child slavery through her pet projects. Genevieve speaks on her life as a beauty queen.
How has life been since you were crowned queen? 
Although I have been restricted from being at certain places and doing some certain things differently, my life has been good as a  beauty queen. It has been a new experience for me.
What have you been doing since then? 
I won the crown in October. , last year. So, I haven't really been on any tour. But I had been invited  for Face of Edo beauty pageant in Edo State in November, 2013. I was also at  the tenth anniversary of AfricaMagic and Ikeja City Awards in December. I am going on a tour of Ghana in May, this year.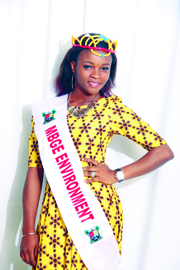 Is this your definition of success? 
Success to me is achieving my goals. It's also about making my life better than what it was previously. Material assets are not a measure of success. How you feel after achieving your goal should be the sole measure of your success. Being Miss MBGE Environment has opened doors for me and it is also giving me the opportunity to achieve my dreams.
What are your dreams? 
One of my dreams that is yet to be realised is being able to help the less privileged in the society. But I know that it is achievable now because  of the pet project that I am working on at the moment. It will soon be made public, when evertything is set.
Does it has to do with the girl child and what is your view about it?
For me,  child labor, human trafficking and prostitution among the girl child are a serious crime against humanity. The government must act fast and look for an effective way to put an end to these vices, which I call modern day slavery.
What is the motivating  factor? 
Genevieve is a nice, intelligent and easy-going young lady who  aims to  become a respected personality in the society. I want to contribute to the growth of this country, by affecting lives positively. My growing up was fun because I got everything I wanted as a child. I am the first child and we are just five in the family. My dad is into building constructions and my mum  is a business woman. So I grew up in a healthy enviroment and I wish the same for every Nigerian child who is the future of this country.
How do you relax?
I relax more with my friends and family. I also love  watching movies and reading.
What next after this?
I plan to participate in the next Most Beautiful Girl In Nigeria,  MBGN or Miss Capital City Nigeria, MCCN, that would be organised by  Ereon Pageantry Nigeria. It's a national pageant of all the 36 capital cities in Nigeria. I also plan to further my education because I dont think I can achieve any of my goals in life without being educated.
And I appeal to Nigerians to  stop stereotyping beauty pageant as a bad thing. It is a way of  promoting  tourism, beauty and culture of the country it is being organised.