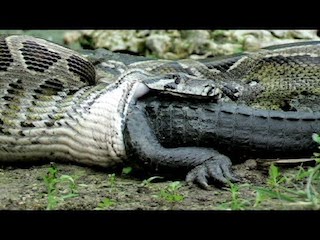 A snake strangled and then swallowed a crocodile in an epic winner-takes-all contest that will make Mount Isa residents think twice about taking a dip in Lake Moondarra in the North-East of Australia, news reports said on Monday.
"It was just unbelievable, we were sort of thinking that the snake had bitten off a little more than it could chew, but it did, it actually ate the crocodile,'' Mount Isa resident, Tiffany Corlis, told reporters.
He said that the one metre freshwater crocodile was clearly visible inside the snake's distended stomach.
watch the video here:
"You could actually see the crocodile's ridges, legs and everything inside its belly,'' said Corlis, who captured fatal encounter on camera.
Report says that Lake Moondarra, 19 km from the mining town of Mount Isa, is a popular picnic spot and location for water sports like canoeing.
It noted that Corlis's graphic images of the massive snake dislocating its jaw to swallow the crocodile whole are likely to deter some from bathing in the lake any more.